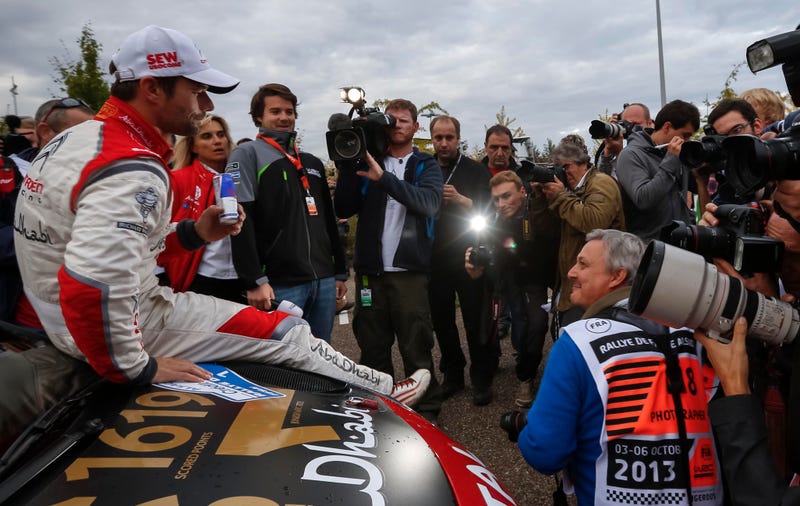 Our new champion has been crowned and the greatest of all time has retired, by that mark alone Rallye de France was a historic event. A close fight among not just the two Sebs but Latvala, Sordo, and Neuville as well made it one of the best events of the year. Add to that live coverage of virtually every stage via Canal Sport and it was exactly what many say is what the WRC needs to be. Absolutely the diamond in the rough on the 2013 season.
I want to welcome 2012 WRC Academy driver Chris Duplessis to our little fantasy game, the first of what will hopefully be many new recruits from the world of competitive rallying. Hopefully he has a good time, continues playing with us, and can provide a little extra insight for the GB round, along with Portugal and Finland next year. Now, on to the rally.
Absolutely everyone expected and hoped Loeb would shine on his final outing, as a result he was on every fantasy roster this week. Even Orlove picked him (another world first). It looked promising at the end of the third day, with the legend sitting just five seconds out of the lead, but ultimately it was not to be as he abruptly lost grip in a tight corner on the first stage of the final day, going off the road and rolling into a ditch (World Rally Blog has an explanation for this). Whether this made everyone a bit more cautious or spurred Ogier (who was holding back with the intent of giving Loeb the win? I can come up with conspiracy theories too) to push, the new champ won the next three stages, taking the overall rally lead and holding off a late-charging Dani Sordo to claim his fourteenth career win (seventh on the season). This victory puts Ogier one short of Mikko Hirvonen, currently the winningest driver among all active full-time competitors. Speaking of Mikko, his season of struggle continued as he was never able to find the rhythm, Finnishing a disappointing sixth. If he fails to win either of the next two rounds it will be his first winless season since 2005.
Now, let's dish out some points. As previously mentioned, Loeb rolled, but with everyone picking him no one gained or lost ground from his retirement. Six out of ten fantasy players chose the roster of Loeb, Ogier, Sordo, Neuville (not always in that order), which proved to be the winning roster this week. Power stage points divided these six, as half chose Ogier, earning two points (Dusty, Hermann, and Hoccy), and half didn't (Nobody, McNewbie, Menebrio). Chris Duplessis was the best of the rest, earning the most points out of the four players who didn't go with the cookie cutter roster. Orlove stayed true to form with his typical "honey badger" roster and typical sub-40 points showing, bringing up the rear of the fantasy field. Don't ever change, Raph.
With Dusty and Herman tying for first it means Dusty still leads by a single point in the overall standings, while Nobody and McNewbie tying for fourth means overall third place Nobody still holds just seven points over fourth place McNewbie. With just 28 points separating the top four it's still very much a four-way battle.
I've created a Google Drive spreadsheet showing the points standings. This is an exact duplicate of the sheet I've been using in Excel to track points all season. Check it out here. Let me know if you want more spreadsheets/more data like this next season. I can also share my driver stats spreadsheets I use to create the data in my fantasy previews.
Rallye de France results:
1. Dusty Ventures - 57
1. Hermann - 57
1. Hoccy - 57
4. McNewbie - 55
4. Menebrio - 55
4. Nobody - 55
7. Chris Duplessis - 47
8. Sliding Sideways - 43
9. World Rally Blog - 39
10. Raphael Orlove - 37
Points standings through France
1. Dusty Ventures - 529
2. Hermann - 528
3. Nobody - 508
4. McNewbie - 501
5. Sliding Sideways - 406
6. Orlove - 313
7. Bobololo - 268
8. World Rally Blog - 212
9. Bob Loblaw - 169
10. Hoccy - 112
11. Eric Siedlecki - 68
12. Menebrio - 55
13. Chris Duplessis - 47
13. FreddsterExprs - 47
15. Reigntastic - 39
Average points through France:
1. McNewbie - 55.67*
2. World Rally Blog - 53.00
3. Hermann - 52.80*
4. Sliding-Sideways - 50.75*
5. Dusty Ventures - 48.09*
6. Nobody - 46.18*
7. Bobololo - 44.67*
8. Bob Loblaw - 42.25
9. Raphael Orlove - 39.13*
*Has entered enough fantasy events (6) for score to be official.