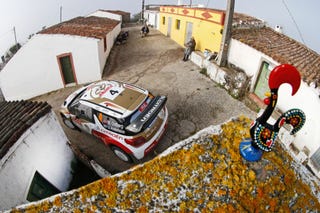 Let me talk to you about POINTS! FANTASY POINTS! Step right up because I'm giving out fantasy points by the truckload! Tired of BEES? Well that's good, because for every one of Oprah's bees I'll give you 10 points! Not enough? How about 100 points? I've got more points than I know what to do with!
Seriously though, it was point-scoring madness in Fantasy WRC this past weekend. In the previous round in Mexico WillKinton won the event with 63 points. This time around in Portugal 63 points would have only been good enough for 21st place (hellooooooooooo, McNewbie!), out of 25 players. So where'd all these points come from? Well, for starters 23 players correctly guessed Ogier would win. 19 players had at least four of their drivers finish in the points, 15 players correctly guessed the entire podium, and for JApexing, who won the week, his drivers finished 1st, 2nd, 3rd, 4th, and 7th. Add in a power stage win and he earned a ridiculous 85 points on the week (the most points possible at any event is 99). If he'd had Mikkelsen and Ostberg swapped on his roster he would have scored an extra 10 points and really cleaned up.
In the overall standings we have a new leader, thanks to an excellent week for Chronchameleon and an absolutely spectacular implosion by former frontrunner Hoccy, who saw three of his five picks fail to score points, missed the big score from Ogier, and finished last on the week with a scant 31 points, erasing the 20 point lead he had at the start of the event and dropping him down to eighth overall. Ouch. Right about now Hoccy is thanking the fantasy rally gods that we're dropping the four worst scores of the season.
Chronchameleon now sits on a healthy 10 point lead, but as we've just seen things can change quickly around these parts.
Here's how the top 10 finished in Rally Portugal. As always the full standings are on the Google Drive Spreadsheet: (Oh, and have you seen this sexy, sexy rally porn?)
1) JApexing - 85
2) G17 - 83
3) Lumpy44 - 81
4) Chronchameleon - 77
4) FreddsterExprs - 77
4) Hermann - 77
7) Dusty Ventures - 75
8) Tell A Finn - 73
9) FormulaPhoto - 71
9) World Rally Blog - 71
Overall fantasy top 10 after Rally Portugal:
1) Chronchameleon - 241
2) Tell A Finn - 231
3) McNewbie - 228
4) Dusty Ventures - 225
5) AntMic - 224
6) ddavidn - 218
6) Nobody - 218
8) Hoccy - 216
9) Sliding-Sideways - 211
10) Hermann - 209