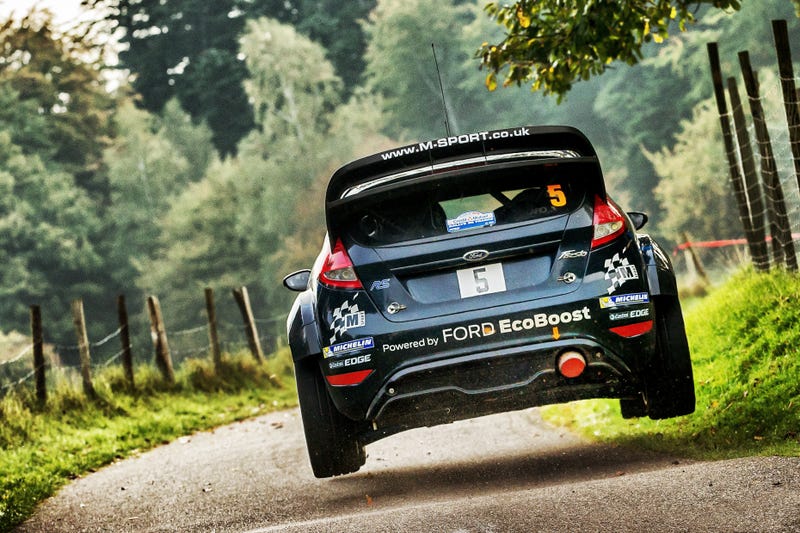 Hard to believe we're at this point already, but here we are, finishing up the championship. And it's been a great one, both in the actual WRC and the Fantasy WRC.
During the last round, Rallye de France, Alex Kihurani took advantage of "accidentally" forgetting to make picks before stage 5 and Ogier's early woes to pick a winning roster. His suspiciously good picks were enough to overcome his eleven point "late entry" penalty and give him a decisive round win, his second of the season. With this he's managed to rocket himself into championship relevancy, now sitting in seventh. Lumpy44, meanwhile, still has a solid grip on the lead. He leads Chronchameleon by 28 points. Behind him, 28 points covers second through tenth. Lumpy's looking good, but behind him everything all the way back to thirteenth could easily be shuffled around. Here's how the current top 10 looks, with the full standings over on the spreadsheet:
1) Lumpy44 - 547
2) Chronchameleon - 519
3) McNewbie - 517
4) Tell A Finn - 514
5) Dusty Ventures - 512
6) AntMic - 511
7) Alex Kihurani - 502
8) Hermann - 501
9) G17 - 495
10) Marshall Richards - 492
Rally de Espana is a strange event, as it's the season's only hybrid surface rally (unless you count Monte as a hybrid with it's bouts of icy weather). The rally starts with a day of dirt before transitioning to two days of racetrack-style tarmac. This means the mechanics are more critical than ever, as at the end of the first day they need to convert the cars from gravel-spec to tarmac spec in just 75 minutes. This conversion includes changing the gearbox, differentials, front and rear subframes, front and rear suspension, and the brakes.
There are multiple stories and multiple drivers to keep an eye on in Spain, chief of which are Ogier and Latvala. Ogier needs just one point more than Latvala to take the title, which doesn't seem like that difficult of a prospect, but Seb has been unfocused at times this season, while Latvala has been the best we've ever seen him. Furthermore Seb will be first on the road for the opening day of gravel, which means he'll be sweeping.
•Dani Sordo has always been strong in Spain, with five straight podiums and six straight top-4 finishes during his Citroen days. He's scored good points in Germany and Spain and will be looking to do likewise at home.
•Kubica drove the rally of his WRC career in France, outrunning Sordo to move into fourth before finding an errant slick spot on the damp tarmac of the final stage. France likely gave him confidence that he has pace, and the smooth roads of Spain are arguably better suited to his style than any we've seen this year. If he keeps it on the road he could easily end up with the best result of his career thus far.
•Elfyn Evans has been quick on tarmac this year, finishing fourth in Germany and overcoming a 100 second penalty to finish sixth in France. If he survives the gravel on the first day he could pose as a top-5 threat in Spain.
•Henning Solberg is back, and while he rarely challenges for the top 5 he's almost always a lock for points, having scored them in nine of his last ten events.
•Here's a surprise dark horse pick for you: Ken Block. Despite being known best for spectacular crashes (and yes, he already put the car in a ditch during testing last week), the man the rally community now refers to as "New Ken Block" has become a decently reliable finisher, having scored points in five of his last seven WRC starts. In fact if you look at his combined experience between Rally America and the WRC starting in 2012 (the year most agree New Ken Block was born), he's finished 11 of his last 14 rallies, and one of those three retirements was a mechanical failure. If you're struggling for a fifth pick that isn't on everyone else's roster he may not be a bad choice.
And with that it's time to make some picks and start the ritualistic smacktalk. If you've forgotten the rules or are new to Fantasy WRC (man are you late to the party!) be sure to read them all here. Below are the WRC competitors entered for Rally de Espana. For the full entry list (WRC2 drivers, etc. Remember, you can pick any driver on the entry list) click here. And, as always, the data spreadsheets are available for you co-drivers/nerds.
VOLKSWAGEN MOTORSPORT
Sebastien Ogier - Avg points last 10 races: 16.9 / Avg points Spain: 9.0
Jari-Matti Latvala - Avg points last 10 races: 16.1 / Avg points Spain: 10.6
CITROEN TOTAL ABU DHABI WRT
Kris Meeke - Avg points last 10 races: 6.4 / Avg points Spain: 10.0
Mads Østberg - Avg points last 10 races: 6.4 / Avg points Spain: 5.3
M-SPORT WRT
Mikko Hirvonen - Avg points last 10 races: 8.8 / Avg points Spain: 12.1
Elfyn Evans - Avg points last 10 races: 5.8 / Avg points Spain: N/A
HYUNDAI MOTORSPORT
Thierry Neuville - Avg points last 10 races: 8.1 / Avg points Spain: 6.0
Dani Sordo - Avg points last 10 races: 8.9 / Avg points Spain: 12.6
SINGLE CAR TEAMS AND INDEPENDENTS
Andreas Mikkelsen (VW) - Avg points last 10 races: 13.2 / Avg points Spain: 0.0
Robert Kubica (FORD) - Avg points last 10 races: 1.4 / Avg points Spain: N/A
Henning Solberg (FORD) - Avg points last 10 races: 5.5 / Avg points Spain: 2.2
Khalid Al Qassimi (CITROEN) - Avg points last 10 races: 0.6 / Avg points Spain: 1.0
Martin Prokop (FORD) - Avg points last 10 races: 3.8 / Avg points Spain: 3.0
Yuriy Protasov (FORD) - Avg points last 2 races: 0.0 / Avg points Spain: N/A
Ken Block (FORD) - Avg points last 10 races: 1.6 / Avg points Spain: 1.0
Hayden Paddon (HYUNDAI) - Avg points last 4 races: 4.0 / Avg points Spain: 1.0