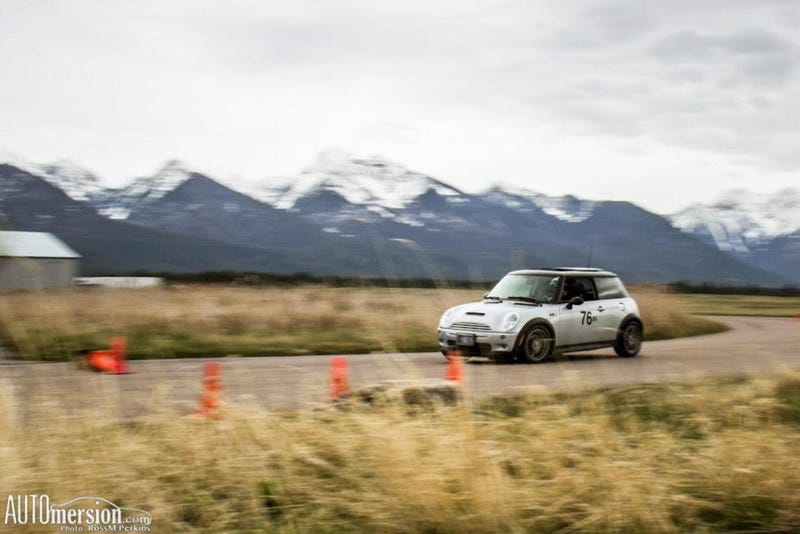 I sold my R53 last week. Let's remember some fun things we did:
We chased down the smug orthodontist from North Dakota in his 996 Carrera 4 at that PCA track day and got the point-by. Then we proceeded to reel in the nice lady in the 3.2 Carrera and blow her doors off, too. (We were subsequently smoked by a pro in a 991 Turbo - I think I laughed out loud after we waved him by. No ragrets.)
We won the Class DS season championship in my local SCCA autocross chapter one year (only car in the class!) and got a sweet jacket, which you couldn't wear. (We did win second place for overall PAX that season, too.)
We left on our first road trip - to Canada of all places - the very day I signed the papers for you. I remember the customs agent at the border who asked with suspicion about your temporary tags, and the pride I felt when he nodded solemnly, handed me back my passport, and said, "Great car."
We commuted year-round all over the magnificent state of Montana in sunshine and snowstorms, logging close to 14,000 miles in support of my consulting business. The vast majority of those miles were joyful or contemplative, or both. The miles that were not, we soldiered on together in solidarity - you never complained, even if I did.
You graciously went under the knife as I attempted my most ambitious home wrenching odyssey ever - replacing your clutch. It took a really, really long time, involved some heavy cursing, and a significant set back after I broke the mounting tab for the clutch slave cylinder clean off the transmission housing when I dropped the whole damn thing on the garage floor.

I thought it was the end. But, the crusty, nicotine-stained welder I brought your sweet Getrag gearbox to grunted once and tacked on that broken flange with nary a word - and in perfect alignment. Soon we were back on the road.
You took well to the mild mods I imposed on you: Koni Yellows up front, Bilstein HDs in back, a bigger rear sway bar with adjustable end-links, Hawk brake pads, and light-weight wheels with sticky Hankooks for Auto-X and track days. Your prowess in the twisties never ceased to amaze me, even when you were rocking your winter boots.
---
After all the highway miles, rev-limiter hits, and hard shifts you only really let me down once.

Remember when we were approaching that hard, banked right turn on eastbound I-90 just west of Laurel, Montana at, let's say, a fairly good clip?

Remember how that was the moment you decided to give up on your power steering pump? Boy, that was sure fun. Thankfully Uncle BMW replaced the part under the extended recall warranty afterwords, and your brakes and my biceps were up to the challenge. We would have made a pretty sad sight floating in the Yellowstone River.
---
Your headlights were bright, and your sunroof expansive.
Even though I never really grew accustomed to opening the hood from the lever in the passenger footwell, or ever meaningfully used that giant center speedo, or forgave you for the incessant rattle in the hatch, or the mystery leak that would randomly fill the battery tray with water, I still loved you.

I remember my wife's fingers held aloft and grazing the wind from the open sunroof as we charged up Washington Hwy 14 toward Maryhill in the Columbia River Gorge on a dazzling summer morning. I remember the shame when I barely side-swiped a parking garage pillar a mere three weeks into our relationship, and never bothered to have the scratch repaired.
This is you on the day I brought you home:
This is you on the afternoon you left, 2013 SCCA inspection sticker still on the windshield, your windshield cracked, but your spirit unbowed:
May your new clutch serve you well, and may all the roads be free and twisty. Farewell, my friend.