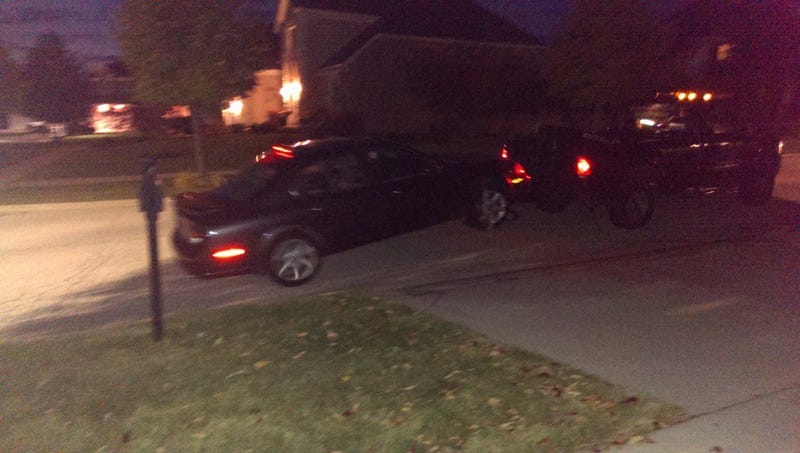 Farewell to the Maxima. She was one of my best friends and seeing her hauled away felt no less sad than saying goodbye to a longtime friend. You'll notice I don't have a name for the Maxima even though I affectionately refer to her as a her. I jokingly called her Rustia but she deserved so much more than a name, less original than hipsters drinking PBR. That, much like hipsters drinking PBR was in poor taste. This is the point in time which I was originally going to go through the history of my car and I but as the brief synopsis of our relationship turned into a several page rant with attempted humor and stories I realized none of that was important. You see what makes a car special to someone is hard to grasp or explain. It's something you become attached to not only because of what it was but because of the memories attached to it and what it represented.
I could tell you about my previous car the Cutless Cierra, how I drove that car until it cried tears of joy that released it from my driving wrath that could only be described as a 16 year old douche. I guess I did just tell you… I could tell you about the time I discovered how the car creates far more lift than any car should that can go up to a speed limited 135 (still a 16 year old douche) or how I learned the value of pulling the e-brake and "drifting" into apartment parking lot spaces to annoy my fellow roommates. I could go on and on about every stupid or/magnificent thing I did in that car, everything it taught me but those stories are better saved for someone who has very little to do.
Instead I just want to sit here and reflect, mostly on my own about how sad I was to see it go. I want to think about how as parts failed and headaches ensured every couple of months that the car was in my life for 13 years. I want to think about the eight years it graced me with good times and reasonable fun. I also want to say I'm sorry. As she began to rust and fall apart I began to take less and less care of the car I once loved. Before it was hauled away I started cleaning out, looking at the dust on the dash, the yellowed headlights and the rusted rear fender wheels thinking that she deserved better. I'm sorry. I took advantage of something that treated me so well for so long and when it because old and needed I just wanted to put it aside. I wouldn't treat a dog the same way why should I do that to a car. You provided me with 188,000 miles of smiles. Thanks.
RIP. I'm pouring one out for you. Enjoy car junkyard heaven. You deserve it.