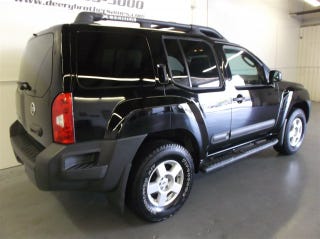 I have been thinking Forester 2.5X Premium, as a CUV with AWD and a manual.
But this is available, and I have thought about XTerra before.
Pros:
Good torquey V6. Robust truck parts. purposeful looks. likely affordable to maintain, and reliable. This one has relatively low miles, below 80K. One of the last SUVs, and one of the few with a manual gearbox. Quite practical for cargo and towing.
Cons:
not full-time AWD, with a locking transfer case. Good in snow pack and offroad, not necessarily great on mixed snow and dry pavement like 3-diff AWD.
Base model, few options. Truck-like handling with a solid axle and tall tires and ride height. Truck-like fuel economy.
But I am sort of used to less fuel economy, and rough handling from a thirsty turbo Legacy with worn suspension bushings.
Does anyone have first hand, or near experience with one of these as a daily driver? Pitfalls? or are they better than the analytical reviews and figures on the page?
Should I hold out for a Pathfinder LE with 3-mode AWD and IRS, instead, or keep looking for 5-speed Foresters?