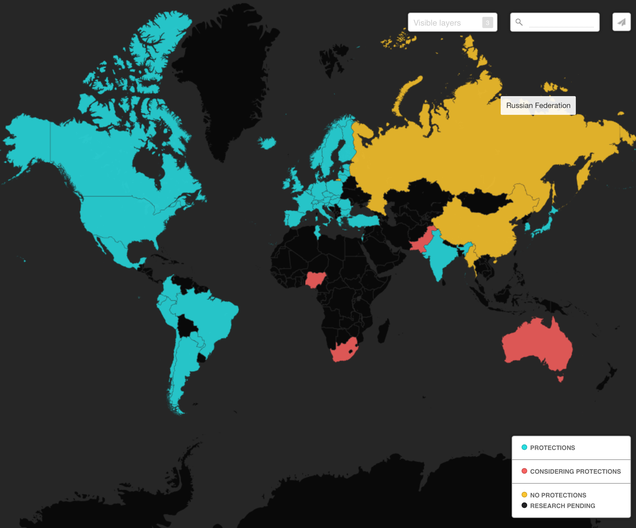 If you live in the blue areas that do not conform the United States of America (AKA: Ajit Pai jurisdiction) you might have thought about feeling quite smug about being in a country with nice internet protection.
BUT...
BUT...
Lets look at other maps:

If we follow the lead of the big companies, most internet data is stored in the United States.
If we zoom in to Silicon Valley, we can see most tech and internet companies have settled in that fancy nest.
What do we care? our access wont be limited in the Non-Murica countries. Well, yeah, supposedly it wont.
But it means that the brightest minds in technology will either migrate outside of this corridor of innovation or integrate into the monstrous machine that Mr. Pai is trying to form. Either way it consolidates power in a way that we had never seen, the creative paste that kept silicone valley will slowly decay until its basically unrecognizable.
Because, while yes, it will cost a lot of money for Facebook and Twitter to compete in the US in the near future, what does this mean for startups all over the world? Because I don't see google and facebook, or Amazon suing over this. Only talking strongly thus far....
Accessing the US will be quite hard for startups, and even then, as companies consolidate their power inside the US, their prowess will be unmeasurable because of how resourceful the American market can prove to be. Becoming what we all feared: monopolies like on cable TV.
Or maybe the companies neglect the US, the Silicone Valley perhaps becoming the Plains of Waterloo, or perhaps the Jalisco lowlands as many outlets have said. But even then, perhaps being unable to access the US market at all would fuck with companies that do not play ball.
But the point of the internet is that everyone can access it and that I can see Americans and Saudi Arabians, South Africans, Russians and all kinds of people work together or argue days on end on reddit. Even if we created our own startups and our own free internet, a huge dark spot will plague us without Americans. I'll miss Americans in the edgier websites that will not be included in the basic package.
I'll also miss that shining city atop the hill to which we all in Latin America strived for, I simply wait to see Mexico's next president scrambling to sell out to Telmex and AT&T our protections which are enshrined in our constitution under the guize that "America did it too."