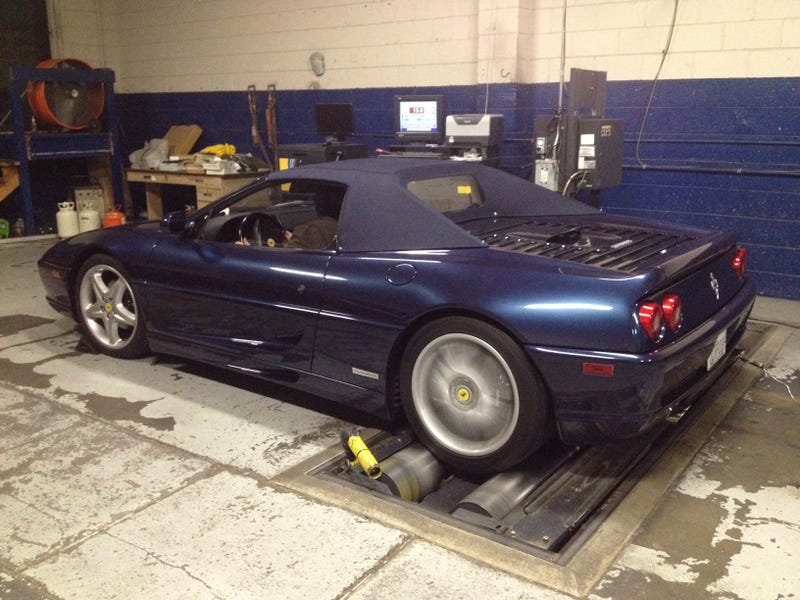 My sincere admiration goes to those who live in a non-smog test state. For those that do - sure, you might have a car that you know is going to pass - but sometimes you have that car that's not a slam dunk. You hand over the keys and pace back and forth like an expecting father in the waiting room during the birth of a child. "Dear God, please just let my kid be healthy - it's fine if he's a little bit stupid - I just don't want him to suffer. ...and real quick, if you can un-fuck the 49ers that would be sweet too, amen."
Well, at least that's how it used to be. It seems like nowadays, the father is always in the delivery room, and has traded his box of cigars and bottle of bubbly in for a two-camera GoPro rig. "Honey, don't move your legs so much, it makes the camera mount on your knee wobble."

Well yesterday, it was time for the 355 to "take it up the ol' tailpipe" as they say...
We all have our own reasons to be concerned about smog tests. In this case, I was testing a car that is known for headers that melt, cats that disintegrate, and a rather conspicuous lack of applicable "20% Off Parts and Service" coupons in my local paper.
You know the drill: (and it's more stressful if it's your 2nd, 3rd, or 4th re-test - my personal high is 8/different car/long story). You wait. You pace. You wonder, "Is that crap I put in the gas tank going to help? Did I warm it up enough? My car is going to get cold if he doesn't finish the car ahead of me soon. Should I register this car in Montana and avoid this bullshit all-together? How come MY car has to be smog tested, but that 1970-something turbo diesel Mercedes (or Volvo) with the black cloud in its wake DOES NOT?? ...Did he just do a 2nd run? Why did the computer tell him to do a 2nd run?"**
Finally, the Doctor (or, in this case, a friendly but taciturn European man in his 60's) emerges to say, "Is finish."
Well that was anti-climactic. I was hoping for a cigar, pat on the back, and a "Congratulations, your Italian piece of shit passed!"...but I'll take an incomplete sentence any day of the week if it means I don't have to fix anything. The numbers were actually really good - so maybe I can use some of the money in my "Ferrari Maintenance Fund" to treat myself to something nice.
Like food.
Why am I bothering to tell you this?
1 - The ass-pain of smog testing is enjoyed by many and misery loves company.
2 - On average, OVER 100 people read my little write-ups. I have devoted fans that demand content.
3- I have been known to defend (and simultaneously criticize) 90's era Ferraris. While I am always a little worried about what kind of problem is going to pop up; the car (and its garage-mate, a 456 GT) does nothing but run without breaking; so this is the only kind of update I can provide.
-J
**Answer: he had trouble getting used to the stiff throttle pedal and therefore failed to stay within the required rpm range for the period of time required.