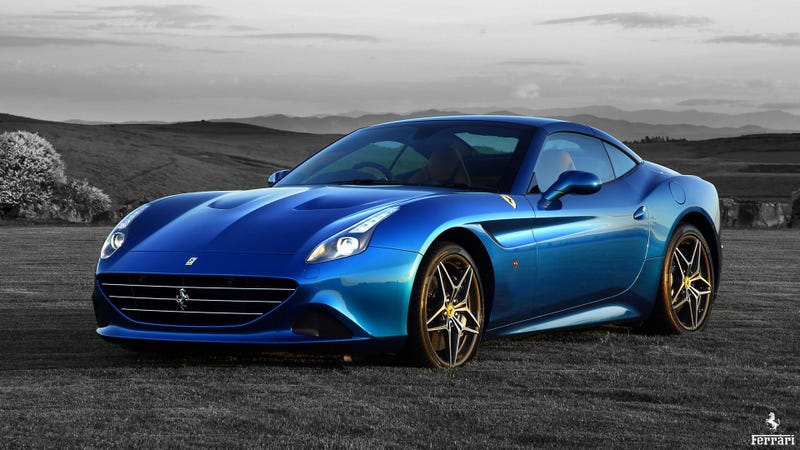 Like many of you I thought of Ferrari's product bookends as LaFerrari and NotaFerrari. The California T changed my perspective and I have noticed that FCA is doing their best work ever when extending the lifespans of their models (I'll talk about that in a different post). The subject of the moment is that I'm no longer seeing any need for the current Cali T to change forms for another 3 years. Let's start with the biggest rival to the California T which is the Aston Martin DB11.
Design wise I'd call the two vehicles even. Right now the DB11 starts around $215,000 and you get an Aston Martin developed twin-turbo V12 engine producing 600 hp and 514 lb-ft of torque. All that power simply to move 4,000 lbs of purebred grand touring heritage up to 205 mph. Come to think of it, that top speed takes down a lot of "faster" cars.

The Ferrari California T, with its 552 hp and 557 lb-ft of torque producing twin-turbocharged V8, begins around $207,000 and weighs around 200 lbs less than the V12 DB11 (yes, power-retractable hardtop and all because V12s are heavy).
The reason I bring up the DB11 is because we know it will get a softtop convertible variant as well as an AMG V8-spec with power likely around the 520 hp / 550 lb-ft of torque range. That means we should see something that is hopefully similar to this pricing:
V8 DB11 - $190,000

V8 DB11 Convertible - $205,000

California T - $207,000

V12 DB11 - $215,000

California T HS - $216,000

V12 DB11 Convertible - $230,000

The Cali T is quicker than the DB11 but the Aston has freshness on its side which is equally important. The upcoming V8 DB11 should end up with a similar driving experience to the Cali T and I wouldnt be surprised when the V8 DB11 is faster than its V12 DB11 sibling in terms of acceleration. I say that because V12 vehicles have a completely different market concern which I call, "Aire over Aero."
Now yes, you do have the Bentley Continental GT in this segment but it's also kind of separate like the Mercedes S Coupe and SL. Plus you have cars like the Lexus LC, upcoming BMW 8-Series, and eventual Audi A9 which will all end up being great values by comparison to the Cali T and DB11. However, when you are low volume and high prestige, cars that do the same thing for $70,000 less won't impact your clientele...unless they are really good...and get low production high performance branded levels...with convertible options...which they probably will...uhhhh, moving on!
Either way, if Ferrari is bumping up production to 9,000 cars annually then I don't see a reason to end the California T. I think there is still another 3 years in it for sure and plenty of room to offer an RMR Ferrari 296 Dino with that awesome 500 hp-plus 2.9L V6 for around $190,000. After that though we need something that relates to the GTC4. Not another wagon but definitely something with the engine up front, 2+2 seating, and AWD. I'm imagining a 2-door liftback with a two-section panoramic glassroof in which the front half can be removed. Something that can provide a fairly unique experience for the segment.
So I say let's have the California stay in the market until the early 2020. Give it just one more touch up at the end of 2018, drop the bottom end and make the Handling Speciale package standard. Then "limit" production to 600 cars for that final 9 months starting in July 2019 as the California Finale. The DB12 should be out in 2023 so that would have the California successor's mid-life rechristening right on top of the Aston hitting the market.