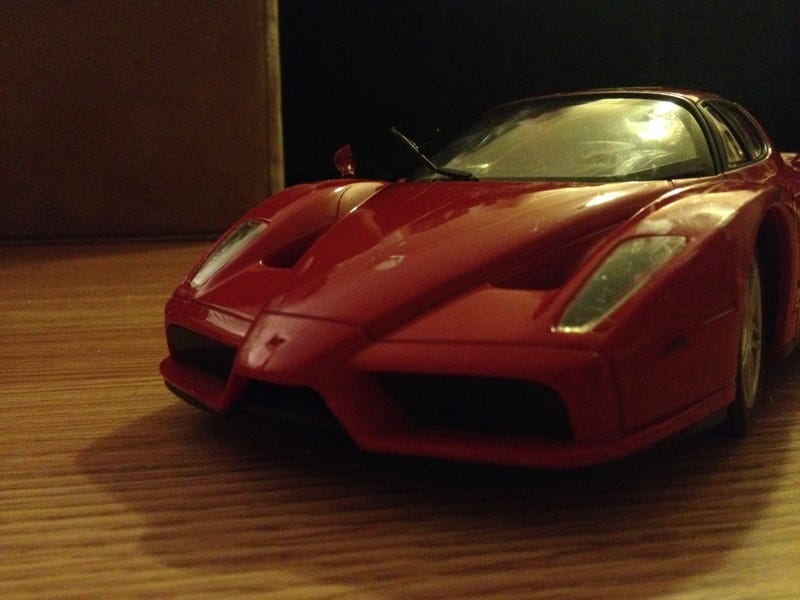 Over the weekend, my family stopped by a garage sale. Oddly enough, the sellers were the in-laws of the pastor who did my wedding, small world right?
Anyways, I bought with this guy. A Ferrari Enzo RC car for $2, not a bad deal when I didn't even now if it still works. Thankfully it does, and after some research I found out it's a Silverlit Digit Pro RC car, or as the seller told me, a precision car.
This guy us wicked awesome. He's a 1:16 scale, and a newer one (albeit with a newer-designed controller) is $50! I also noticed he has a LSD, which is too cool.
To make the package even sweeter, it has turn signals,
brake lights (they are there, you just can't see it well),
and working headlights, all with LEDs of course.
It also has a pretty sweet interior
and engine compartment.
Being bought from a garage sale, its been used a bit. There are marks all over it, but it's mainly cosmetic so I don't really mind.
This controller is pretty cool too.
Plus, check out the accelerator stick, it's suppose to go up to scale 200 mph (we'll see about that).
Also, my house is perfect for the car, as everything is a flat, smooth surface. Nothing is carpeted except the enclosed porch. You see a crowed living room, I see a race track with sharp turns.
My daughter (1 yr old) also LOVES this car. So it's hard to drive it around here because she either wants the car or the remote, or usually both. I also discovered I really enjoy do hit and runs with my daughters other toys. Namely this guy, he just looks so smug to me.
Well, this RC car got a better respond out of the other one we have. This one just makes her cry every time it goes near her (it's for the cat).
Honestly, this car is really fun to drive, I would recommend it. They have other cars too, and I'm really interested in the Impreza they have.