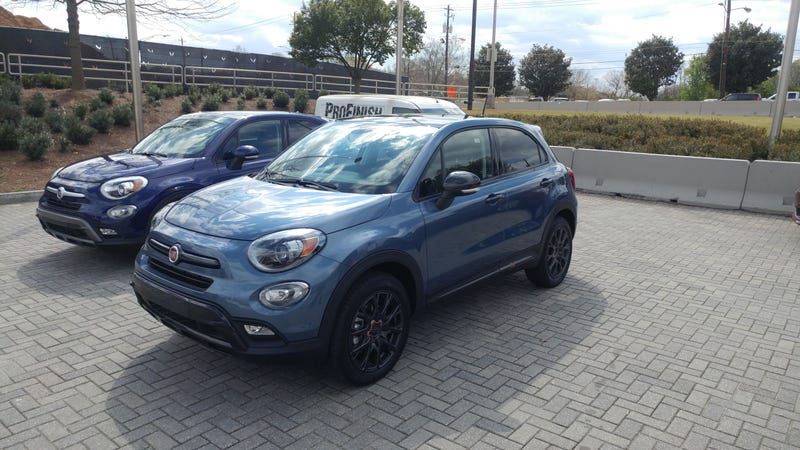 Yesterday, I had the joy of driving two different Fiat 500X Trekking models. The 500X is a car I didn't know a whole lot about, and I wanted to drive something that had a high ride height and was the same length or shorter than my RAV4. Before this experience, the only vehicles I'd driven were a Driver's Ed Civic, my old Ranger, my dad's xB, my sister's Rogue, and my RAV4. This is why I wanted to stick to something safe. My automotive repertoire is small to many, but I don't need to drive many cars.
(Full Disclosure: I could get a $10 Target gift card for driving an FCA model, so I chose the 500X for the reasons stated above. Plus, I could fit in it and there wasn't a wait. The 124 Spyder met none of these requirements).
The first one I drove was the blue one in the back, a 2017 Trekking. It had convenience features I appreciated, such as smart key/push button start, a big sunroof, and Beats Audio, but lacked options such as a power driver's seat and even a backup camera. It drove nicely, and when I backed it up, I was surprised at how small it was! I didn't have to worry about a tire smacking into something. It was FWD, yet it still had drive modes for inclement weather, as well as a track mode. There was an electronic parking brake, too, which was a neat little touch.
The Sky Blue 2018 500X answered my complaints about the 2017, providing a power driver's seat, a bigger screen with a backup camera and guidance lines, and even tucked in AWD. It also had the options of the 2017. I like brighter colors, and the rose gold accents were a very neat touch! Both vehicles had a 2.4 liter 4-cylinder and they were able to get up to speed just fine. The ride was better than in my RAV4, too.
I'll admit that I'm easily persuaded, but these 500X's were very nice cars. The last one I drove, which I photographed the window sticker of, stickered for just under $30,000 with all of those options. With Fiat deprecation doing its work, I could find one of these for an incredible price in five years or so. The only issues I had were that I had to raise the seat a little to see out, leaving about an inch of headroom, and my dad, the same height as me, had no headroom in the backseat. A non-sunroof version (inside the building) had similar rear headroom to the front headroom of a sunroof model. A vehicle like this would not be for regularly transporting rear passengers, though. Overall, this was a good test-drive experience and I hope to do more in the future.