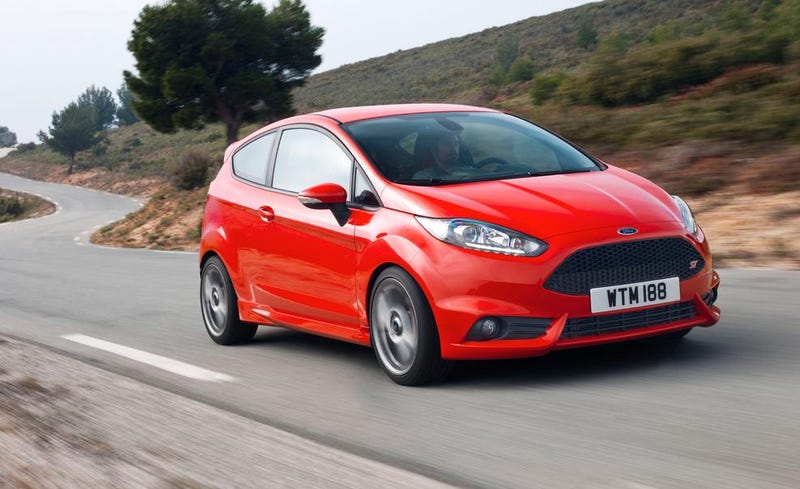 Today I was driving around with my friend and we stopped at a few dealerships to see the gen 6 Camaros and few other cars, along the way we stopped at a random Ford dealership to check for a GT350 when I found a Fiesta ST.
The ST was what looked like the tri coat mineral white without the Recaro seats or really any other option. The car looked great and fit me well at 6'3/6'4(depending on which nurse measures me haha). Sync 3 was equppied on this particular car and was my first time using it, I found it very responsive and easy to learn. The steering wheel Ford chose is very cheap to hold and cheap looking. The center console armrest literally hurt my elbow and the center screen was not digital so it didn't show MPH or anything like that. After looking at the seats, the trunk, and a few other bits I took it out for a test drive.
Right away once I got all my mirrors setup I was disappointed with the lack of feel the clutch has, and how light the pedal was. It was hard to get any real feel out of the clutch which was disappointing coming out of my Focus ST. A little farther along the drive I thought the brakes were very poor, definitely the first mod I would do is much much better brakes. Getting onto the highway with 197hp I figured it wouldn't be too bad as the Focus only has 252hp I was again disappointed. The car that everyone hails was slow, had bad brakes, and bad clutch feel. I left knowing I made the right choice buying a Focus over this Fiesta, I can't even see how people compare them. The only decent thing was the Fiesta had was the handling.