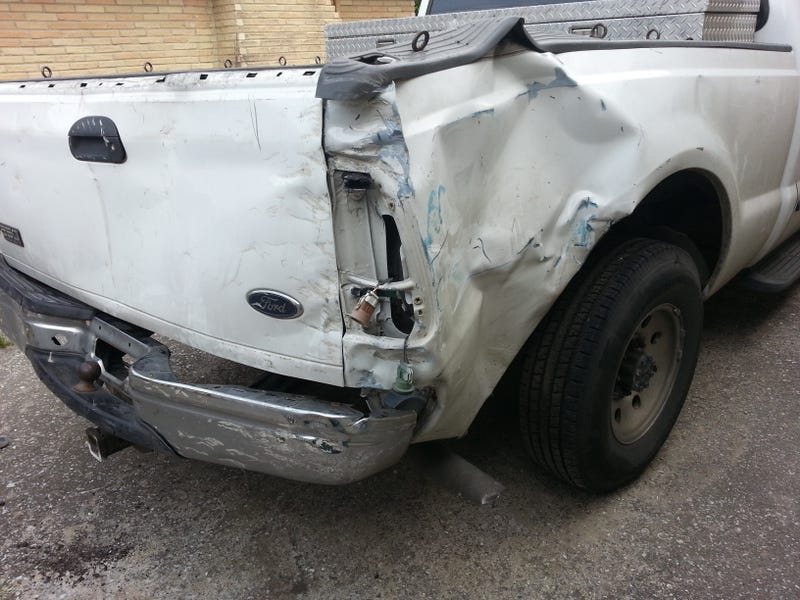 For you awesome peeps that have been following this, your kind words are much appreciated! Previous update can be found HERE.
First of all, the insurance people where not playing fair with my dad. He has had this same insurance company since 1978. My dad had to haggle hard to get fair compensation. At the end, my dad decided to take a check AND get his truck back.
The bed of the truck took most of the impact. Also, one of the brand new tires I bought for my dad was damaged beyond repair plus a wheel.
That doesn't look straight

First things first, I had to get that bed off. It rained over night and that HOT Houston sun and concrete floor made my dad's driveway a straight up steam sauna!
U bolts are completely bent to hell but there is not frame damage. I got a strap on the driver's side and did a lot of measuring. All good once the u bolts are in.

Ok cool. First thing would be U-bolts and a new set of leafs which we found at a junk yard for $100. While there, we also found a bed, bumper, and lights for a little under $200. Last, one shaft seal located where the drive shaft goes into the trans. HECK YEAH!!! Things are moving good. Not, lets check the column lock.
Guess what... the key fit perfect and that BEAST started up juuuust fine.
We did what we could for now. I could finally take my boots off and all just in time to relax and watch Indycar qualifying.
Well alrighty then, everything seems to be going down smooth....... until my dad put it in reverse :'( My guess is the impact while crashing into the store caused it to fail. Damn those bastards. FYI, almost every day or every other day in the Houston area, this group of criminals continue to steal HD trucks and do those smash and grabs, usually for the ATM machines.
What seemed to be a simple repair and salvation for my dad's 600k+ mile workhorse is now in jeopardy. All pending on how much it will cost to either repair Reverse ("rewind" in Texican lol) or replace the transmission. If we can get this truck back to work, he will use it for a little longer until he eventually sells it and gets something else. If not, he has a buyer lined up to take it how it is for parts.

I'm not 100% sure what my dad will do, but she WILL run again in one way or another.
As for the check my dad received. Welp, he is coming over to my job later this week and going surprise my mom with something she's been eyeing.
Yay employee deals :]
UPDATE: We bought an 2005 ML320 fully loaded with 105K on the ticker for $5000 :]