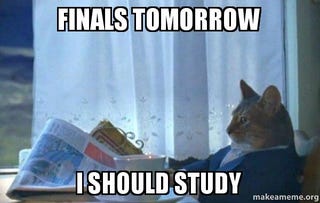 I'm just going to start doing this regularly. I have a long night ahead of me... two finals to prepare for. I turn again to you, Oppo.
I would like some good tunes, "so hit me with your best shot." (But please, not that song) I need to continue through the caffiene-fueled rampage.
Last time I mentioned I was a fan of old school gangsta hiphop/rap and up and coming aswell as classic hipster/alt rock. You guys gave me a lot of other stuff and introduced me to some cool genres.
Help me survive finals week, as well as the other undergrads reading here. :)
Also...what is your ultimate "Driving like a badass" song?
Post a video or link below! :)