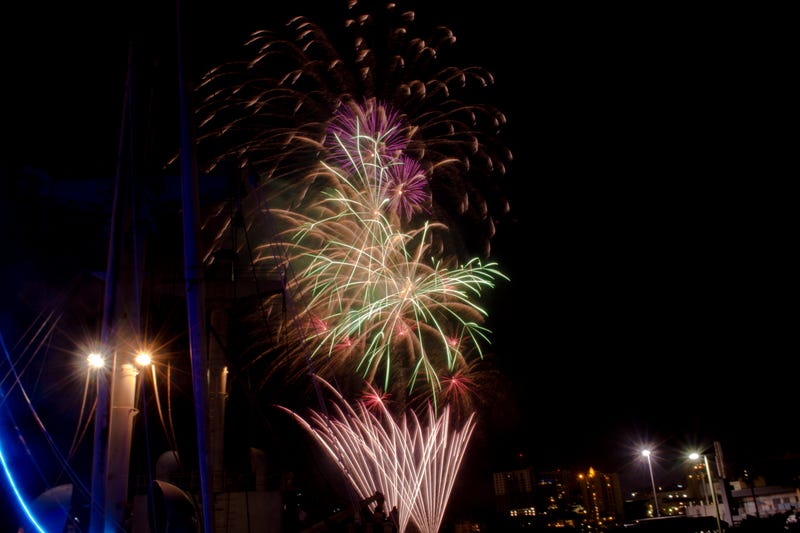 I hope everyone survived the 4th with all limbs intact and avoided DUIs by not driving drunk (as opposed to driving with a hand over one eye).
We went over to Tampa to watch the fireworks from aboard the SS American Victory, which is a World War Two Merchant Marine Victory-class ship. It's about the most patriotic way to watch fireworks on the Fourth (and I've done D.C. several times). Being able to explore the ship really puts the sacrifice of those who served on these and similar ships in to perspective. It's cramped. It's disgustingly hot (without the engine running). If things go wrong, there is no where to go but dead.
Lady SonicGabe's grandfather, who was for all intents and purposes her father, was a Navy man who served aboard a Liberty-class merchant ship in World War Two. Those were the older, much more sinkable versions of the Victory ships. He ran the crew that operated the five inch gun mounted on the poop deck (the upper rear deck). The same type of gun was mounted on the Victory ships, so it was a very emotional time seeing conditions similar to what he lived and fought in. I'm pretty sure if I was stationed with a gun crew on one of these ships that it would be called the poop deck for an entirely different reason.
After the sun went down, it was time for fireworks. We found a great, uncrowed spot and I shot a bunch of pictures of the fireworks with one of the masts silhouetted in the foreground. The DJ (they have a huge party on the ship every year for this) had some technical issues, so the cheesy synced-up soundtrack to the show didn't play until the finale. The stark silence punctuated by the bombastic explosions going off just in front of the ship made for a heavy experience.
It was a fantastic night. If you are so inclined, you can see the rest of my pictures here:
https://flickr.com/photos/4738624…
Bonus: We got to hang out in engine room (which may have been closed for the night) for a while. 6000 hp @ 103 rpm! Think of the torques!
This is from the iPhone camera.
I have to edit some of the non-firework pics from the real camera later today, but the lighting sucked inside the ship, so I'm not expecting anything too great. And, due to Homeland Security reasons, this is as close as you can get to the engine. I guess they are afraid North Korea might steal some of our World War Two steam technology or something.