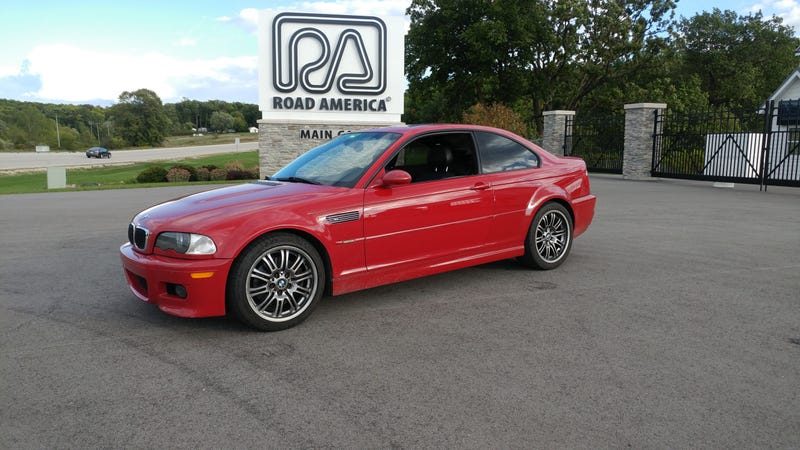 Now that I can post again, I thought I'd share the story of when I first tried to buy an E46 M3 about three years ago. I had finally worn down my fiancé with talking about it for 6 months straight, so the time had come to begin the search. I was looking for one with a manual, under $20k, around 100k miles, not black or silver, in the Milwaukee or Chicago area. Finally on Craigslist, a red one fit my criteria in Chicago.
So I began contacting the guy about his Imola Red M3 with around 90k miles on it. It seemed like a pretty good candidate as the guy was a BMW CCA member and was fairly informative about the car so I decided to setup a test drive. We set it up only two days or so ahead of time so I didn't think it'd be necessary to confirm with him the day of. A buddy of mine and I drove down to one of Chicago suburbs to meet with this guy after work. We got there and waited a while and the guy didn't show up. I called him a few times and when he finally answered, he told me he was at work downtown. He said he'd have to go home first to pick up the car and then he could meet us. My friend and I then when to Portillo's and sat around for the next hour and half waiting for him.
So finally the moment arrived to take a look at the car. At this point it was night time so a visual inspection was pretty worthless. It was the first M3 I had driven so I was very happy with how it drove. This one had a Dinan tune and a Dinan exhaust, which I wasn't crazy about because it really droned on all the time. But I had been looking for a while and this car was in my price range and in good condition so I was ready to move forward with it.
I then began working with him to setup a PPI to make sure everything was ok. He was initially flexible though hard to reach. Throughout the whole process he always preferred texting which was a huge pain because it took half an hour to have a basic conversation.
I did some forum and Google research and found an independent mechanic in his area that I wanted to have the inspection done at. He suggested a different independent which I said was ok. I was willing to set everything up or let him do it, whichever was easiest. He said he would take care of it but that he was busy so it would be a little while.
About a week after our last communication, out of the blue he sends me the below text message saying that the inspection with an oil change came out "perfect."
I'll admit that maybe I was being picky, but the fact that he went against what I had requested without letting me know really rubbed me the wrong way. When I pointed out that it wasn't what we agreed on and that I still wanted the other shop to look at it, he went on a massive self righteous rant.
Needless to say, I think I made the right decision walking away from it. It took a month or two until an Imola Red M3 went up for sale in Milwaukee which I jumped on. It had 15k more miles, was $3k less, and the seller was a great guy.