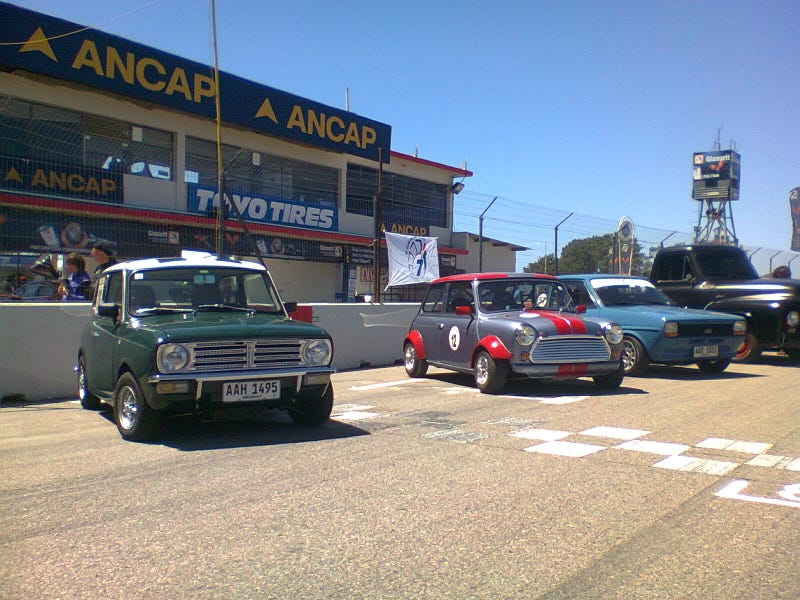 I went with my GF and a friend to a Glasurit-sponsored car-show and it was good.
Scratch that, it was pretty damn good in it's own right, not just for Uruguay.
It was held in the Autódromo Victor Borrat Fabini (THE almost-local racetrack) and being sponsored by a big car-paint company most of the stands were occupied by businesses associated to car-restoration, care, detail shops and the like. There also were a couple of restomod types and some a VW beetle specialist, they made some surprisingly fast beetles.
Paging Torchinsky.
This other engine proved to be able to push this VW beetle scary-fast...
... and made a beautiful noise through its single-pipe exhaust.
We got there around mid-day and stayed until 5 0'clock or so, even more time than I guessed my companions would have wanted to remain, but they loved it, the cars, the noise, all the Sun (we got ourselves some nice sun-burns). It was a nice event with drag-prepped sports cars, 4x4s, motocross and rally car demonstrations, some short drag races open for everyone with a nice-enough car, circuit passes (no racing was allowed, some got red-flagged) and some more things I didn't got to see as we went early on Sunday but the event had started a day before.
Now, some photos, sorry for the pictures' quality (mobile-phone camera) and general lack of photographer skills.
A nicely-conserved Fiesta, a really cool Mini and some woman that appeared out of nowhere.
There were a lot of Minis at one time, their owners seem to get up early.
The nicest Escort among those I saw, the names on the windows show this man drives this car both on classic and regularity Rallying, using his daughters (AFAIK) as co-drivers.
This F-100 was so nice it hurt.
This Mk1 Golf was right next to it and was probably one of the quickest cars there.
Now you see why, the engine bay was packed tight with go-fast bits.
Turbo Audi 4-pot and custom-everything, it's a pity I couldn't get a better angle, the turbo looked (and sounded) massive and, covered in heat wrap and right by the heat shield.
The whole setup was impressive, even more so for a place where there are no major drag-racing events. It participated in a number of drag demos while we were there and at first it did't seem to push very hard, afterwards a little drag-league was held and then it proved what's the difference between this and most of the other cars (a couple of nice FIAT147, a VW Gol that imploded and some nice VW beetles), they all made a couple of passes and then came the Golf. It was a massacre, they let the turbo fully kick-in and it went! I have never seen a faster FWD car, it was crazy.
I don't think this was a real M6 (people said it was an auto) but it looked super-neat and the owner raced it pretty hard, full oppo on the last turn and all.
A nicely-preserved E30 and a newish VW Saveiro.
Also a Turbo, this one was littler IIRC.
'nother Escort.
A nice FIAT 125
These two are part of a new C-class series. Haven't seen it.
Paging Roberto/Autovox
Classic V-Dub in tha Haus!
A VW SP-2, one of the coolest cars there, without a doubt.
An AE86 Sprinter Trueno mid-prepping for Drift, the mechanical bits all worked and the sound was AMAZING, absolutely mind-blowing (also ear-blowing, I think it went over 7500 RPM) it made some donuts afterwards, hilarious.
That Yamaha engine is glorious.
This Mach 1 was right next to it.
An amazing Cobra, IDK if it was a replica or a real one, doesn't matter, because Cobra.
A 1-door and a 3-door :D Lovely cars.
An F-4 racecar and an old bus, IDK why they were in the same place at all.
Lovely Power Wagon, the other truck is great too.
I think they were raffling this one... lucky kids.
This last one for today's Halloween theme: Chinese bike, Turbo 125 CC single-pot engine and acrylic wheels... a true nightmare.
EDIT: placed some more photos I forgot about.