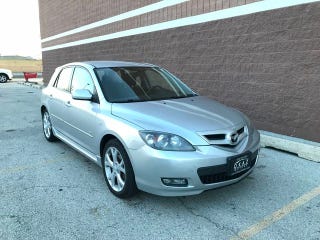 Reason why I'm curious, is because last weekend, I stopped by a local used car dealership, to test drive a car (that wasn't mine, or a friend's) for the first time: A 2007 Mazda 3 Hatchback. I know, I know, nothing special, but I've always liked first gen 3's and would seriously consider replacing my Camry with one. - Especially after driving one.
Being only 19, I was a little nervous going in, because I thought I'd get laughed at or turned down. I'm glad that the dealer I stopped by was so genuine and accommodating - not what I expected. When I asked to test drive the 3, at first he was a bit hesitant, because he said that they typically don't do test drives under 21, but he said that I seemed like a "sensible young man" and gave me the keys.
After test driving the 3, and now feeling confident, I remembered that there was also a Toyota dealership down the street...
I decided to stop in, not at all expecting to test drive anything. I walked in, asked a salesman if they had any Camry brochures. He goes and grabs a brochure for me, then we start getting into a conversation about why I was in the market for a Camry. I explained to him that I wasn't in the market, but I just wanted to "check out" the new Camry. Since they didn't have a Camry in the showroom for some odd reason, he grabbed some keys and took me outside to look at a 2018 Camry SE. After starting it up and looking around, he asked if I wanted to test drive it. I was quite shocked when I heard him say that, and immediately told him that I didn't want to waste his time, since I had no intention of buying. He assured me that it was not a waste of his time and that they weren't busy at that time.
So, of course, I accepted his offer and test drove the 2018 Camry. To be honest, I guess I was so surprised that I was even allowed to test drive a brand new car, I didn't really pay much attention to how the thing drove.
What did surprise me on that test drive, was how clueless this salesman was about the 2018 Camry. He mentioned that it was only his 4th day, but I mean come on. As a salesman, when I ask some thing as simple as, "Does this have LED headlights?"
(It did). I don't expect to hear: "Huh. I don't know."