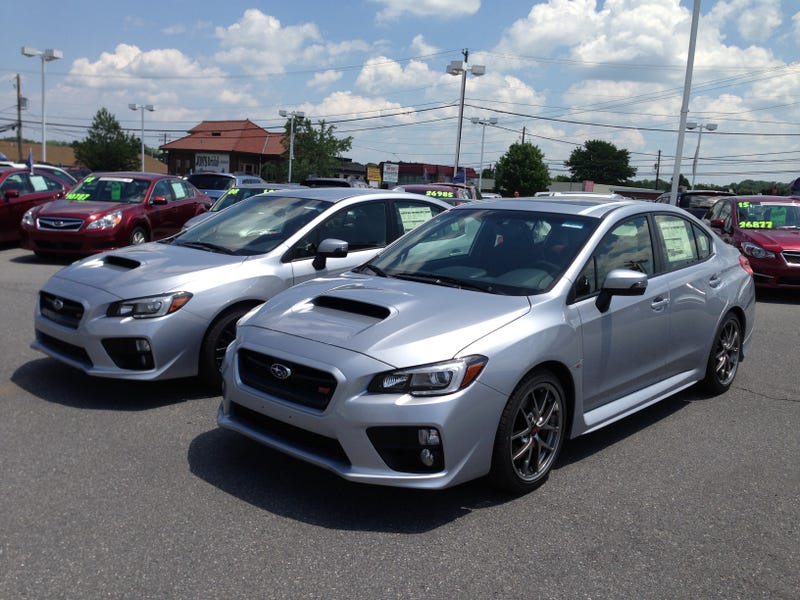 The 2016 WRX STI is starting to appear on dealer lots. I stopped by my local dealer today to take a quick look at the new arrivals; a WRX STI and a WRX STI Limited, both finished in Ice Silver Metallic.

The biggest change cosmetically for the WRX STI Limited (foreground) is the availability of a low profile lip spoiler in place of the standard height spoiler. While the lip spoiler is a no-cost option, selecting that option does give the STI a different production code; GUW vs GUV. The standard WRX STI (background) is only available with the standard height spoiler.

Personally, I'm not sure how I feel about the spoiler. On one hand, the STI has almost always had the large rear wing, save for a few special models (such as the previous generation's ts version available in Japan). It seems odd seeing an STI without the large rear wing. On the other hand, the low profile lip spoiler does give the STI a stealthier, sleeper appearance. It also appears a bit more mature. Everyone has their own opinion on the rear spoiler, but it's nice that there is finally an option (even if it's only on the Limited).

Other changes include an upgraded audio head-unit (which I have yet to try) and one touch turn signals for passing. The STI Limited also gets blind-spot monitoring and rear cross-traffic detection (optional on the standard STI).

As for colors; Lapis Blue replaces Galaxy Blue, and Pure Red replaces Lightning Red. Lapis Blue can already be found the new Legacy and Outback, while Pure Red appears to be a new color.
There were no 2016 WRXs on the lot when I was here, but I can go back later if there is interest.