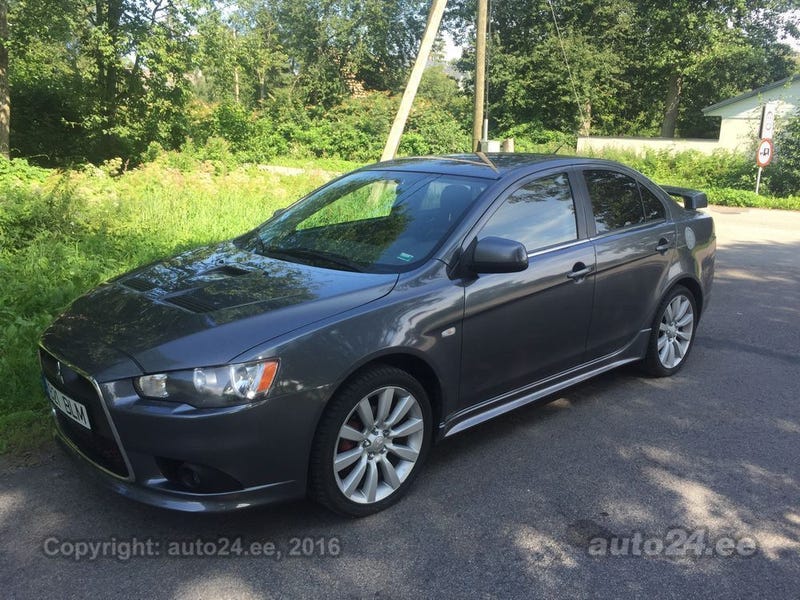 I am looking at cars to buy/lease and I am having a hard time finding anything interesting and good looking. So far, I have figured out that I would like to have something fun to drive with a bit of power, but on the other hand sensibility kicks in as well...
Example... Here is an Mitsubishi Lancer Ralliart that has been imported from the US:
Mileage claimed to be only 27.000 (43.000 KM) or so. Plenty of power, a reportedly very nice transmission and it looks clean. I have a soft spot for Mitsubishi since my parents owned almost exclusively Mitsu's while I was growing up and they never seemed to have a problem. Also, the design still looks fresh to me personally with the exception of the rear-end perhaps. But... It's €10.000 for a 7 year old car, I have no real info about reliability and it's a bit bare in terms of options. No Recaro seats, no Rockford Fosgate audio system, no nav system etc. There is also a 2011 Sportsback version floating around with more creature comforts, but it has more than double the miles on it and the rear-end of the Sportsback looks even worse IMO.

Then, the sensible part of my brain guided my mouse to this:
Kia Cee'd, only 3 years old, not too bad on the mileage at 48.000 miles (76.100 KM). Loads of equipment, enough power to satisfy normal people and that 7-year warranty that still has about 3-years or 52.000 miles left. I drove a rental Cee'd for a while and it was quite decent though not spectacular.
Both will come out to similar prices per month to lease, which has my preference at the moment. Emotion is leaning towards Lancer, sensibility is leaning towards Kia... Why does it have to be so hard... #firstworldproblems indeed.
If you want to have some fun looking at other options to throw in to the mix, this would be the site to look at: