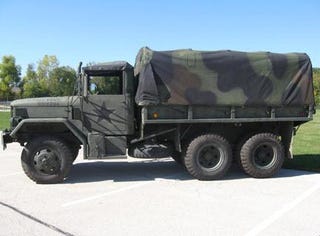 I would love a tow vehicle for getting to/from the track. Run-what-you-brung makes getting home more of a concern than is sometimes comfortable. The beautiful pics from other posters made me do a little searching. This has so much going for it.
$10k, and out you go. Multifuel engine, 6x6 drive. A new F150 starts at about $24k, the Super Duty line starts at $31k. I'll take the green machine all day long.
But then, I drove a '78 2-seater to work today, including day care drop off. Took about a half hour to get the car seat in with the belt and locking clip. Worth it for the chorus of "Car! Car! Go! Gooooooo!" from the seat next to me, and the smile/thumbs up from the classic Dart driver next to me in traffic.