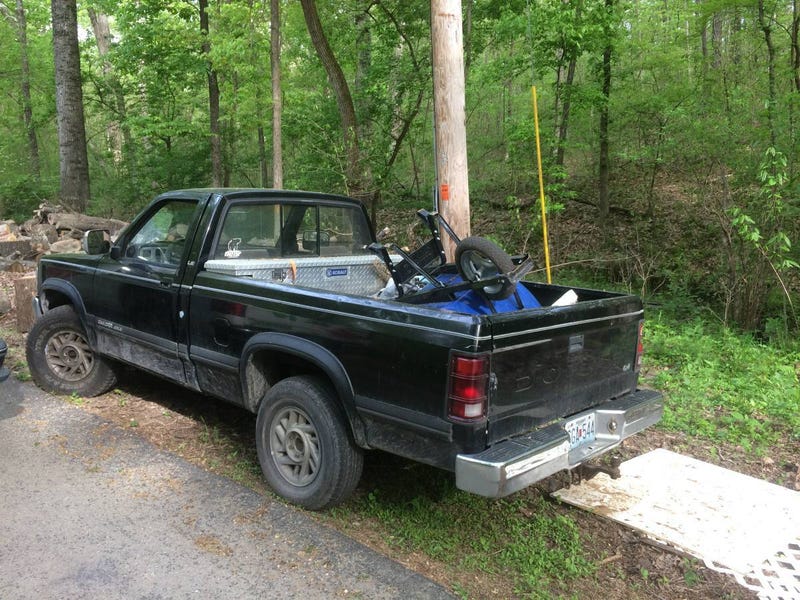 Welcome back to Flip or Flop, the NPoCP variant with a bit of a twist. Instead of deciding whether it is a good price for yourself, you decide whether you can buy it, fix it, and sell it for a decent profit. Today's candidate is this 1994 Dodge Dakota.
The idea of this flip is not a hundreds of tens of dollars money maker, but instead a small flip, an entry level one. The goal is to repair the issues on the truck and sell it for a workers truck price.
The description reads as follows...
94 Dodge Durango Bad drive shaft $400 new tire put on clean title in hand need gone today! Inbox me or text me at <number> if you want to come see it. Thx.
The Vehicle
First things first, this is not a Durango, unless your truck is a series of numbers and letters, you should probably know what kind of vehicle you have. This is a 1994 Dodge Dakota LE. It had the option of a V6 or V8. I am assuming this one has a V6 as it is the most common. It has new tires and the title is clean so no issues there. There is also nothing saying that the toolbox doesn't come with the truck - which is a huge plus to our cause.
Issues
The main problem noted in the description is the drive shaft. Now when concerned about the driveshaft we need to know if the is a 2 or 4 wheel drive truck. Judging from the badging, it it 4WD which means one or both drive shafts could be broken. For all we know it could now be a FWD truck. If it is no-wheel drive, the issue could lie deeper in the mechanicals, such as the transmission, transfer case, or differential. All of these things would be found out upon pre-purchase analysis. Should the issue lie in the transmission or the rear differential, it probably isn't worth flipping. If it is the transfer case, well we will see.
A couple other issues I see are the RR tailight assembly being broken which is a minor issue. The bigger issue I see is the bed does not line up with the cab and the tailgate doesn't seem to line up with each end of the bed. This could be the indication of something major. If the frame or bed is twisted, that would make this not worth it.
Parts and Repairs
Let's assume that the engine is good enough and that the drive shaft is the only thing needing replacing. Let's take a look at the costs. If we source a drive shaft from the junkyard, it will cost $34.59+4.99+tax = ~$42. This is for a 2-piece Pickup/van driveshaft which I assume is the 4wd version. A new-to-you drive shaft from RockAuto is about $250 which is too much for what we want to do. In fact, most RockAuto or similar outlets are cost prohibitive.
If the transfer case is the culprit, that can be pulled for $129.99+$14.99+tax = ~$157. This of course will require a much more involved replacement process.

The tailight assembly is ~$20, but that is a minor repair and may not need to be done; however, it will make the truck look a little cleaner and more together.
The Numbers
The seller is asking $400 for the truck. Let's take this as the max amount paid. To appease our end crowd, the work truck/contractor, I would think $1500 would be the optimum sell price.
However, looking at the local market of high mileage pre 1997 Dakotas, that price point is fairly high. The tool box will be appealing, but it is still a high mileage mid 90s Dakota. But depending on how much we need to put into the truck we could still make decent money at $1000 or even $800.
If everything is ship shape and it is only the driveshaft that needs replacing...

Acquisition & Parts: $400 + $42 + $20 = $462

Sale Price: $800 - $1500

Profit: $332 - $1038
If we find the driveshafts are fine, but the transfer case is shot...
Acquisition & Parts: $400 + $157 + $20 = $577

Sale Price: $800 - $1500

Profit: $223 - $923
If both are borked...
Acquisition & Parts: $400 + $157 + $42 + $20 = $619

Sale Price: $800 - $1500

Profit: $181 - $881
*keep in mind all of these estimates are for basic parts, there is a lot of fluidity in the numbers (i.e. mounts, brackets, fluids needed and such).
It is all a matter of how much effort you want to put into the truck. A drive shaft seems like an easy replacement. The transfer case less so, and far more expensive. Once you start getting into the transmission, diff, and other parts, it gets more complicated than it is worth from a time stand point. Still though, it looks like there is a little money to be made.
What say you Oppo? Is this a flip or a flop?