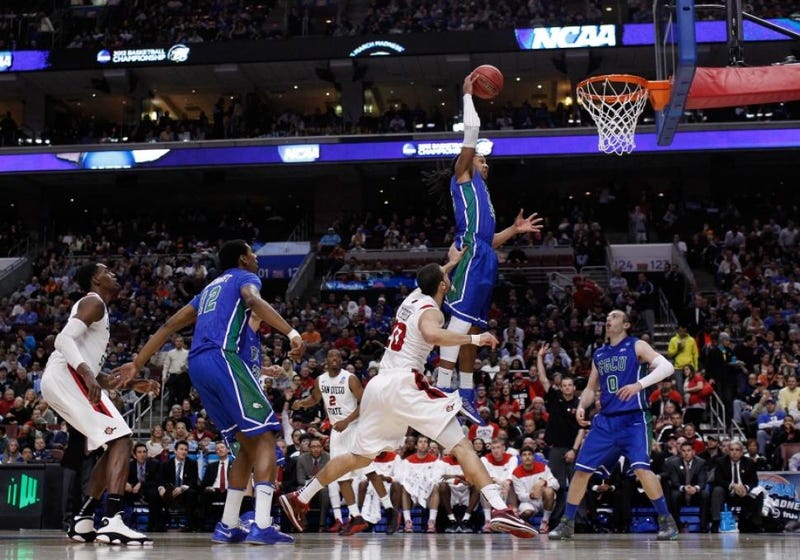 Florida Gulf Coast is no stranger to making tournament history (just watch some of its highlights from their 2013 run if you need proof), and North Carolina already fell once this year to a UNI team that nobody thought could hang. But this is the big show and a #16 has never knocked off a #1, so why should it happen now?
Full disclaimer: I don't care for UNC all that much and I love seeing upsets. Plus ever since FCGU made their 2013 Sweet 16 run I've been hoping to see them take someone down again.
Should UNC even be a #1?

Honestly with the chaos that this year has been, maybe not. Maybe this slot really belongs to a Michigan State, Oklahoma, Xavier, or maybe even Villanova? Any number of teams could've made an argument for this 1 seed slot (and the one Oregon snagged while we're on the topic).
Should FGCU even be a #16 seed?
You could easily argue they shouldn't be. Just look at teams like Buffalo, Fresno State, or Mid Tennessee. You could easily argue that maybe one of those teams would've been better suited as a play in 16 seed, especially after seeing the punishing beat down that FGCU dealt to Fairleigh Dickinson yesterday.
Is FGCU better than the 2013 team?
Well if you go by the stats alone it's close. This years team has rebounded better than the 2013 team, they turn the ball over less, they put up points significantly quicker, they shoot better from 3 and inside the arc, their roster is much deeper than in 2013.
My point here isn't that I expect FGCU to beat UNC, they might be the most dangerous 16 seed in a long time though. Their play in game against FD might not be a fluke game. They shot about 35% from 3 which is just below their average, their overall FG% was about 10% higher than their average but their FT% was quite a bit lower.
TL;DR: If this game turns into a high paced, high flying game then UNC might have their hands full. If North Carolina keeps this game in the paint and puts FGCU at the free throw line though then I don't see this going well for the Eagles. Enough of me typing, what do you think? Is this the year a #1 falls?