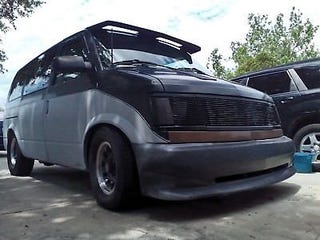 "This is a daily driver, and ""IT AIN'T YO MAMAS SOKKA VAN"" Great fun attention getting , unique ride, handles like a oversized go kart
I built it for all around fun , camping,hauling , tailgating, and smoking the imports!!!!!!!
It's has a 355 SBC /700R4 in it now , I have over 5k just in engine PARTS, 3k in BODYWORK
3 inch DJM LOWERING KIT, CALIFORNIA CUSTOMS FRONT END , REAR BUMPER COMES WITH IT , GAS SHOCKS, BIG SWAY BARS, DECENT SOUND SYSTEM, MOTORCYCLE RAMP,
THE VAN NEEDS WINDSHEILD,DASH PAD, AND MINOR BODYWORK as seen in pictures , ( someone backed into it ), then a L/R tire blew out , and a curb caught the rocker panel behind the R/F Wheel ( driver error lol)
New project needs$$$$$$$$$ so this has to go !!!!!!
I WILL REMOVE MY DRIVELINE, (AFTER SALE WITH DEPOSIT). IF YOU WANT TO TEST DRIVE BEFORE, WE CAN !!!! DELIVERY ALONG INTERSTATE 95 POSSIBLE
Great flip project , or rolling advertising , it has been a reliable vehicle, and the California Customs rear bumper comes with it , and if the van sells to someone local I'LL ASSIST ON INTALLING YOUR DRIVELINE. IT TAKES LESS TIME THAN YOU THINK ,
IT WILL TAKE 7500.00 TO BUY COMPLETE IF INTERESTED
NO E MAILS. CALL ME FOR MORE INFO 321 xxx xxxx
SCAMMERS DONT EVEN THINK ABOUT IT !!!!!!!!!!!!!!!!!!!!!!"