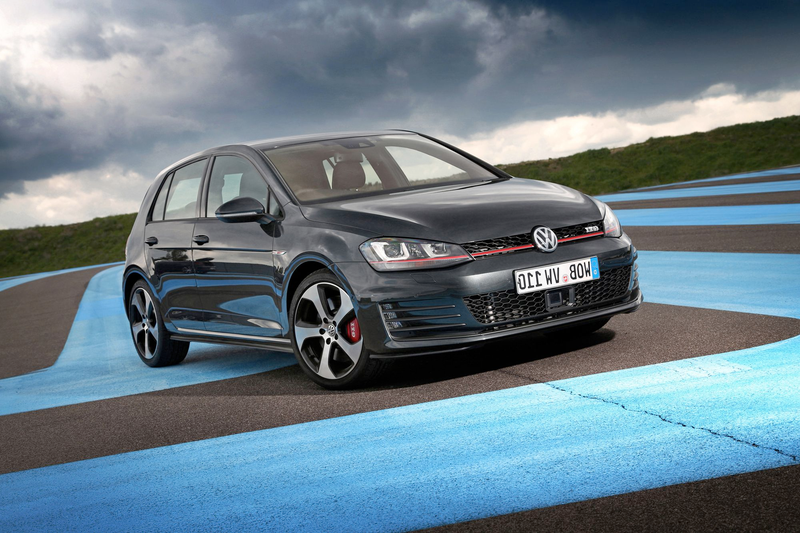 Current vehicle is a 2004 BMW M3 SMG. The rear seats are plenty large enough for two adults and easily fits our car seat without squishing the passenger's legs. It's a great car but after almost three years I've grown bored of it. For my next vehicle I want to average closer to 30 MPG than 18 MPG and still enjoy the back roads when they come.
I've all but put down a deposit on a 2015 Volkswagen GTI. It's the 4-door S trim with 6-speed manual, lighting (xenons) and performance (Fancy LSD and bigger brakes) packages. Total comes to $27k. Well, I'm not totally sold on the Performance Package but I think it would be good for resale in 3-4 years. As for color, I'm undecided but leaning toward tornado red or carbon steel metallic.
Currently no GTI's have made it ashore spec'd the way I want. From my two test drives in the SE these are thing I love about the car:
6-speed manual transmission is delightful
Seat design, comfort and outward visibility
Interior cabin materials and quality
More than enough mid-range grunt (250+ torque)
Plenty of back seat space for two people or a semi-local drive with three.
Owners claiming 36+ MPG Highway
Size. Not one for larger vehicles.
What I don't like about the car are the louvers around the fog lights, the stupid GTI logo on the Performance Package brake calipers and the fact that I can't get navigation on the S trim. I can overlook the first one with a darker color paint to decrease the contrast and easily paint over the GTI logo. Not having a navigation option is a shame. Guess the 'ol HTC One will have to do.
Competitors
I looked for a manual transmission 3 series but couldn't find a 2012 or newer in the area for under $30k. Having recently driven the Focus ST, I personally did not like the design of the interior or the seating position but I did enjoy the noises and road manners. The Fiesta interior felt so cheap I'm not even going to look.
Are there other cars out that that I'm overlooking?