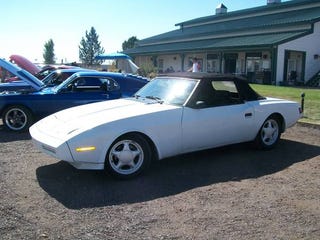 I saw this for sale about a year ago on CL. It's back.
http://denver.craigslist.org/cto/3711619336…
Wikipedia says:
http://en.wikipedia.org/wiki/Python_Au…
I read this on a forum:
"I talked to Craig, son of the gentleman who did these conversions in Fort Collins, 1988-1990.

Craig and his dad were not the original owners of the python conversion company. The cars were produced in California starting in the early 1980's, but on a very limited scale. Then Craig and his dad bought the company and moved it to Fort Collins in 1988, where they finished the balance of the 100 +/- cars.

This car is the original prototype for the python conversions. It was built to be shown and be a display car only, never to be a driver. It was part of the purchase of the company, and that is why it was a colorado assigned vin. In 1992 this car was sold, and then it was converted to be a driver. Since it was the original prototype, it is slightly different from the later conversions. The ebay ad stating that there were 22 of the early cars is reasonably correct.

Ford had nothing to do with the conversions. However, the designer, Eugene Bordinat, a designer at Ford, did make a python conversion, in both hardtop and roadster on AC Cobra chassis #3000 and 3001. The AC cars were pythons in name only, nothing like the mustangs that came later."