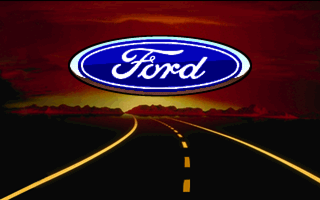 LGR made a video of version 7 and goes much more in depth. I was able to find a 5.0 version and will share some screenshots of that. Basically Ford provided customers and potential customers of software that ran on MS-DOS and provided a virtual showroom of their models.. There was even a basic driving sim but it got boring really quickly. More on that later.

Now for some screenies!

Lincoln

Mercury
Aspire
Crown Victoria

Escort
Escort wagon

The one that runs over people

Probe
Taurus
Even offered a paint selector

And provided some specs of each vehicle

Taurus SHO

Taurus wagon

what an ugly color

Tempo, the pinnacle of luxury

Thunderbird
Aerostar
Bronco
Club Wagon, AKA Econoline

Explorer
F150
F250
Ranger
Windstar
Mercury Capri. Forgot these existed

Cougar
Grand Marquis

Sable
Sable wagon

Topaz
Tracer
Tracer wagon

Villager
Lincoln Continental

Mark VIII

Town Car

Driving simulator. Basic... just choose a Ford, arrow keys to steer/accel/brake. Space to shift gears if you choose a manual car.

traffic

the steering is pretty wonky and you can crash up to 4 times

RIP
exit screen