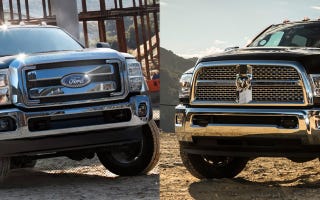 Because they are lying?
Every truck maker is switching to the new SAE J2807 towing standard. That includes Ford with the all new Super Duty in a few years time. Until then both manufacturers are claiming best in class towing.
Which is where things get tricky. Because Ford might not have any grounds to make this claim. To make the DOT's class 3 rules of a 14,000lb GVWR, the F-450 is weighed without the spare tire, tirejack, and center console.
Dodge addressed this in their response - "Our best-in-class claim of 30,000 pounds of towing capacity for the 2014 Ram 3500 stands firm in the 350/3500 segment. Additionally, unlike our competitors, our new 2015 Ram 3500 will hold the title and weight capacity while adhering to the SAE J2807 towing test criteria"
Big trucks and even bigger egos seem to be at play here.
Source : Autoblog
Personally I just think ford is upset because Dodge swept the podium at this years Diesel Power Challenge.