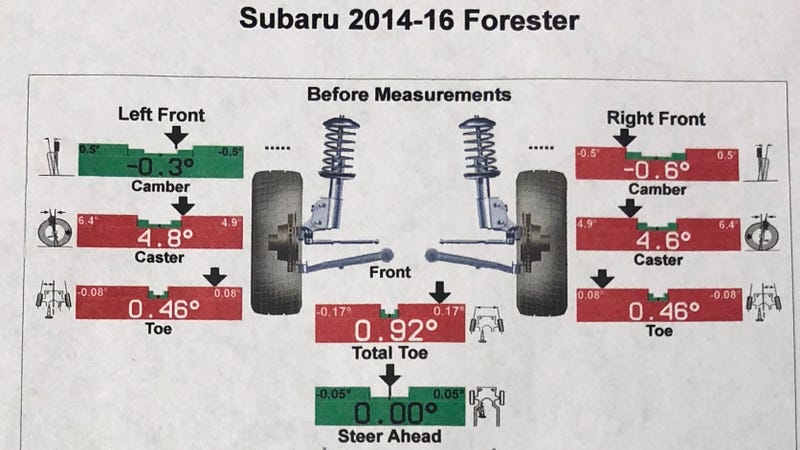 On December 11th, I was an idiot and hit a curb head-on at somewhere between 30 and 40 MPH causing one of my wheels to bend beyond repair. I've finally gotten everything as resolved as it will be so, here is a summary of what happened. First, here is the wheel as it currently sits on my deck:
Looks worse without the tire there than it did with the tire still there. I had the dealer's wheel shop look at it. When they saw a picture with the tire on they thought it was fixable, but after pulling the tire they changed their mind. I asked y'all what I should do with it, and I'm thinking I'll turn it into a hose reel come spring. So my first order of business was finding a matching wheel. The 18" wheels that I have on my base Forester are from a Forester XT that I bought from a guy on CL who was an awesomely crazy person that was actually downsizing his XT to 16" wheels and fitting big A/T tires. Fortunately, I actually kept my original steel wheels with the tires mounted, so I had a full-size spare and some time to search.
I responded to a CL ad for 4 XT wheels for $600, figuring that I could sell the other 3 over time on eBay and come out in good shape. But I never heard anything back. Eventually I went to eBay. At some point, I realized that I could sort by distance. I found a few used XT wheels listed at $150 up in Austin and contacted the seller to ask about local pickup. It turns out that he runs a small chain of wheel/tire shops and actually has a warehouse here in San Antonio. Each day one of his guys makes a run between the SA and Austin warehouses. So the next day I was able to pick it up in a sketchy part of town, but much closer than Austin. Since we went outside of the auction, we got the price down to $125 over PayPal. It does have some curb rash, unfortunately, but it is round which is most important right now.
At this point the dealer (this thing is still under warranty and I'm still making payments, so I wanted a Subaru tech to take a look at it) was closed until after Christmas. I dropped off my Bridgestone, which somehow escaped the ordeal unharmed to be mounted and balanced on the new wheel on the 26th. I told them no rush and that I'd like to have the thing installed and get an alignment done when it was ready. On the 29th, they called to say the tire was ready and asked if I could come in for an alignment. I balked a little, because I was at work. Then they offered a loaner for the afternoon before I even asked.
So, here is the alignment sheet:
Basically, the curb encounter knocked the toe way out of alignment and not much else. Caster is non-adjustable on the Forester (the front caster is slightly out of spec on my Outback too). Apparently nothing else underneath looks like it was damaged. The mount/balance and alignment rung up at $155 with tax. So all in $280. And I got to drive a new Impreza for the afternoon and got back my Forester washed and with my old wheel/tire sitting nicely in the trunk. I wish this had never happened and down the road I may look for a pristine XT wheel that doesn't have any scrapes, but overall I am very impressed with how well the Forester handled the whole thing. From the jolt that I got when I hit that curb, I expected way more damage than this. Good job, little Subaru. I will try to never repeat this.