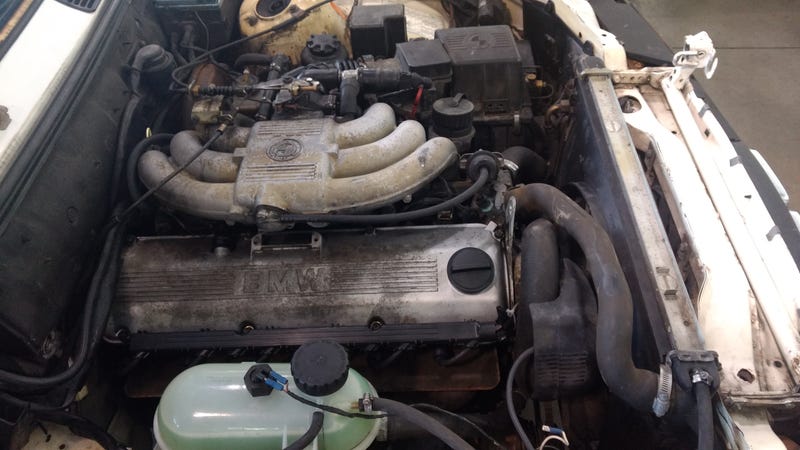 Since last we spake, when mine heart had an ache, my Audis still broke, dreams of restoration up in smoke. But alas my dram lives! For Germany still gives! Work will begin! The E30 will win the heats and the minds of petrolheads of all kinds! So join me now with a simple task to allow a vehicles value increase and depreciation to cease! A simple task, no help needed to ask, and soon a factory finish will appear and the hearts of all will it endear.
So I painted my valve cover.
Well, I went to adjust the vales on the old E30 because noisy top end and hesitation. While I was in there and the valve cover was off, I painted it.
First thing I did was use a brown sanding disc on an angle grinder to brighten up the BMW and lines because they were nasty with years of neglect.
Next I covered the freshly cleaned raised part with tape.
Painstakingly cutting out the design
And here's what I taped. Notice I taped the breather (for lack of a better term) nipple and oil filler. This is for better sealing and because I didn't want any paint on the engine side of the pan. Also, because I didn't take a picture if it, I used the brown sanding disc to clean the oxidation and dirt from the pan. I followed that up with a wet sand with 400 grit to get rid of the swirling and deep scratches.
One coat
Four coats
Done
Installed it added so much beauty it's unreal. I just used Hi-Temp engine enamel in flat black. Remember to tape and prep really well to get a good result. Took about 90 minutes. Adjusting the valves took longer.