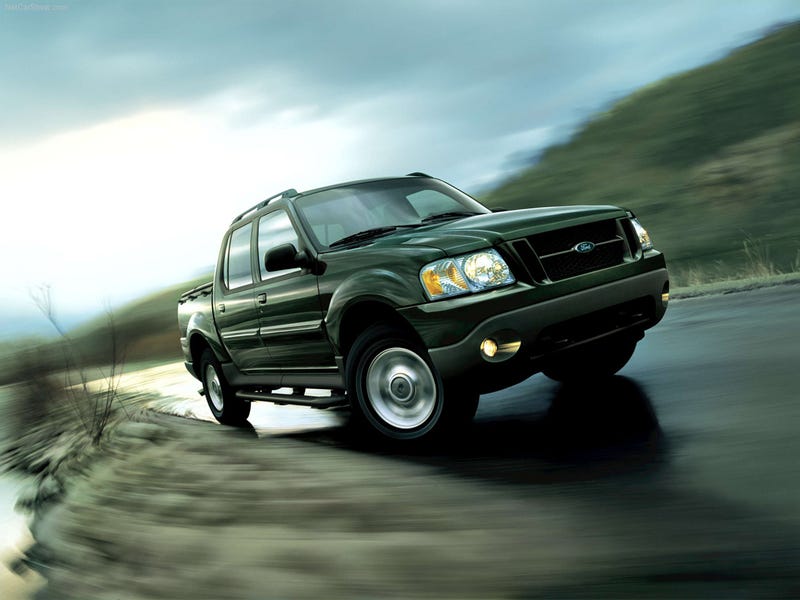 It was kind of funky but had enough of a buyer base that they got 2 gens out of it. Produced from '00-'11, the Ford Explorer Sport Trac was exactly what it looked like: an Explorer with a pick up bed. The first gen seen above debuted in February of 2000 as for the '01 model year. It was to compete with other weird truck things from early last decade like the Ridgeline and larger Avalanche. Its first year on sale it supposedly had a waiting list of 3 months, surprising when you consider that some at the time thought its fully loaded (for the XLT trim) sticker price of just north of 30 grand was too much for what it was.
Power came from Ford's "Job 1" Cologne boat anchor V6 that saw duty in other trucks and sadly the Mustang. In this application it made 210 horses and was the only engine option. Surprisingly it could be had with either a 5 speed stick or a 5 speed auto routed to either the rear or 4 wheel drive.
With it being essentially an Explorer with a rear bed, it was all Explorer. Weirdly though the rear tailgate was taken from the F-150 Flareside and the interior was damn near identical to the Ranger in a not good early 00's Ford way:
But it did have some ok looking 2 tone leather seats and side curtain airbags which were a big thing back then.
2004 saw a preview of the next gen Sport Trac based on the 4th gen Explorer. It was essentially exactly what the production version looked like when it debuted for 2005 but not as low.
Based on the new 4th gen Explorer, it was completely redesigned and saw even the interior fall more inline with the fact that it is an Explorer. It kept with the rugged aspect of the first gen by still offering a rubber floor, but adding new luxury amenities like a heated windshield and satellite raido.
A new engine option came as well. This gen saw the availability of the 4.6 3 valve modular V8 as an option. It put out 292 much needed horses but was only available with a 6 speed auto. This gen also introduced 4 wheel independent suspension for a better ride.
The interior as well was redesigned and made to look more "luxurious". TO help with that image, this gen had only 2 trim levels unlike the first gens 4. There were only XLT and Limited for the 2nd gen.
Ford was supposed to answer the performance call of enthusiasts with this Sport Trac Adrenalin for the '07 model year, but they backed out at the last minute. It had all the right things going for it too and proably would have sold out.
It was powered by (and would have been in production) Ford's 390 horse supercharged V8 routed to an awd system through a 6 speed auto.
Outside it showcased special SVT chrome wheels, a front fascia with an aggressive "black chrome" grille and grille surround with matching headlamp bezels, while the rear had unique rectangular exhaust outlets and a lip spoiler on the bed.
Inside red leather seats with thick bolsters would have helped coddle you while you surprised the hell out of a few people at stoplights while "unique" SVT white gauges would have shown you how fast you were going over the speed limit. The Adrenalin was supposed to continue Ford's performance push that had started with the GT and the reintroduction of the GT500. They wanted it to continue what the Lightning started performance truck wise and was supposedly an answer by enthusiasts that wanted something with performance and utility. But as usual they backed out and gave a stupid Adrenalin package that had some of the show and none of the go.
I was really surprised reading online how many people really liked these. And in some places they still command a premium. I have never encountered one in person though.