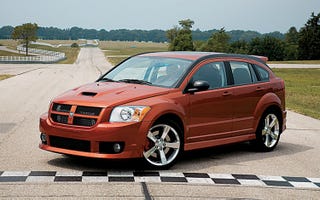 Debuting at the New York auto show way back in'06 and being made through '09, the Caliber SRT-4 was Chrysler's foray into the hot hatch field. Positioned to compete with the MazadSpeed3 and VW GTi (lofty ass goals for pre bk Chrysler if you ask me) it had a turbocharged 2.4L I4 pushing 285 horses through the front wheels. We all know this thing should have come with awd out the gate, but rumor has it that a combination of the packaging not working out for that and a big price increase made awd a no go. But even then it was still putting out some serious power. Edmond's dynoed an SRT-4 when it debuted and got 281 horses and 261 ft/lbs of torque and called Chrysler's power rating "conservative".
Having never driven one, apparently it was pretty good to drive, with some calling it autocross worthy. Getrag made things even better by providing the 6 speed manual, which had been described as crisp to shift. The Caliber had relatively big brakes as well, utilizing 13.4 in front discs and 11.9 in rear supposedly lifted from the Charger Police Package. Despite this, the Caliber had long stopping distances with Car&Driver measuring a horrible 175 ft from 70 mph.

Aside from the typical crap Chrysler interior quality from the time, it had good looking beefy SRT seats and a reconfigurable instrument cluster that gave performance pages that gave things like lateral g's and braking distances. The rest was forgettable. It was a bargain as well at $22,995. Sadly nothing like it exists now for cheap performance from FCA outside of the too small 500 Abarth and Abarth 124 Spider.