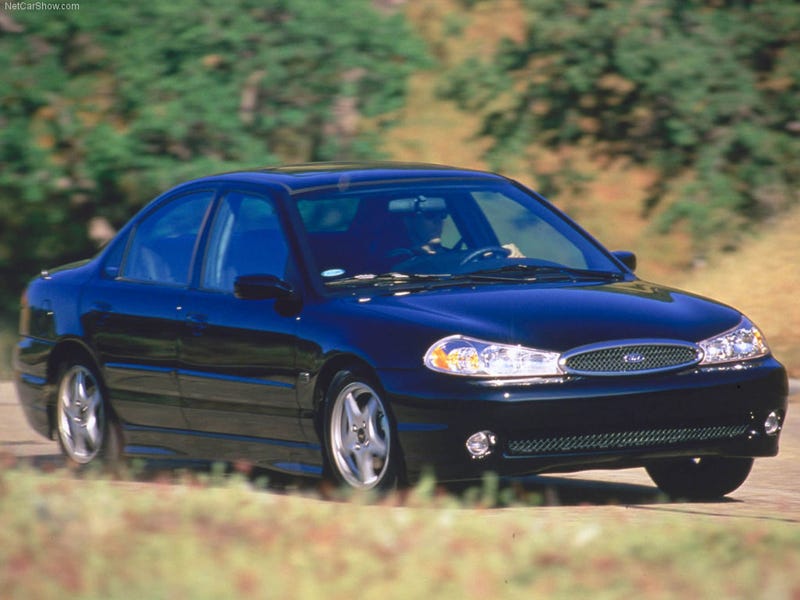 The Contour was probably one of the few times a vehicle was brought to the American market virtually unchanged from its home market. It was essentially a renamed second gen Mondeo brought over from the European market. Many people even forget it was here for 6 years, from '94 until '00. For a brief 2 years, '98 till '00, Ford let SVT get their skunkworks hands on the Contour to turn it into something special.
Debuting in '98 and produced in Kansas City, SVT restyled the Contour to be in line with the refresh of the whole Mondeo line. Everything was enhanced. It received upgraded suspension and brakes, stickier tires, new body work with unique lower front and rear fascias, and special sport seats and white SVT gauges.
The centerpiece of all of this was the SVT tuned 2.5 V6. It put out a whopping 195 horses and put the power to the front wheels through a proper 5 speed manual. With 165 lb/ft of torque on tap, the Contour SVT blasted (sort of) to 60 in an ok by today's standards 7.5 seconds. Bigger brakes brought the car to a stop from 60 in 129 ft. The upgraded tires, which were Goodyear Eagle GS-C's, help the car lay down a not bad .85g's on the skidpad as well.
Inside like I mentioned before, it received upgraded SVT white gauges similar to the ones used in the Cobra from this era.
And sport seats with bigger bolsters for cornering. But ultimately those bolsters were just for show...
Pushed to the limit, the Contour proved to be a letdown. In a summer '97 comparison test from Car & Driver called the Best Handling Cars for under $30 grand, the Contour placed 5th out of 6th, just ahead of the Eagle Talon TSi AWD. They wrote: The Contour SVT is a pleasure at lower speeds, but on faster corners, its soft suspension becomes a liability.
Only available through 726 SVT certified dealers and with a starting price of less than $25k, Ford aimed to sell 5000 initially, but if the production numbers I had to dig for are believed, for the 2 years it was on the market, a total of 11,445 were produced, with the bulk of that being produced in the first year it was on sale. Ford seemed to position it for people that lusted after a Cobra, but who's pocketbooks said you can't even get a Taurus SHO. Largely forgotten, I wish we had something like it around today in their lineup.