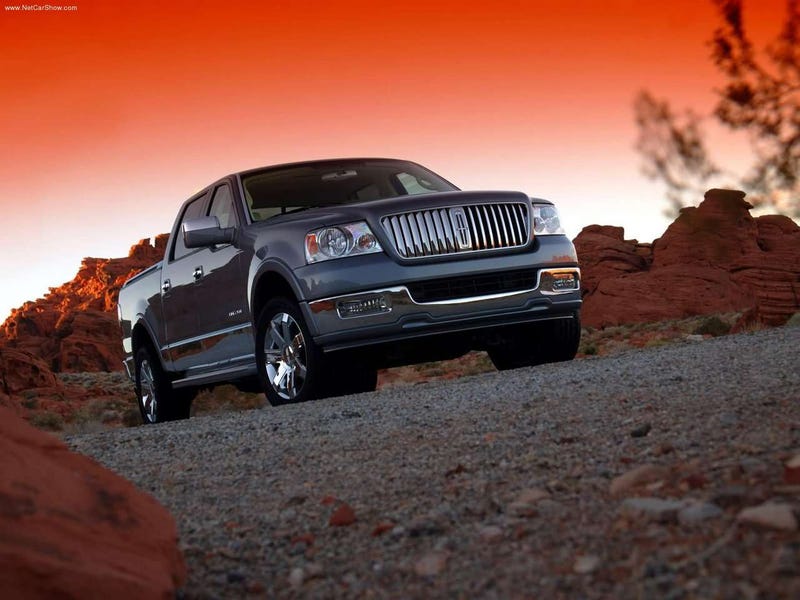 How do you follow up a failure? With another one. That's what the Lincoln Mark LT was. Essentially a successor to the failed luxury truck but not a truck Blackwood, the Mark LT was nothing but an F-150 with Lincoln trimmings.
Introduced for the '06 model year, the Mark LT was based on the F-150 Supercrew. It was powered by the same 5.4 Liter Triton 300 horse V8 and could be had with rear or awd. Starting price in '06? $43,495. Lincoln touted the Escalade EXT as its sole competitor.
Inside it was even more Lincoln-ey, with ford thinking that lots of fake chrome and Lincoln star badges was enough for people not to see that this is just an F-150.
Produced alongside the F-150 at Ford's River Rouge Plant in Dearborn, Ford had high hopes for the Mark LT. Initially, they wanted annual sales of 13,000 and it was more successful than the Blackwood its first year, with 10,274 finding owners. But after that the EXT consistently outsold the Mark LT with it eventually being canceled in 2008. The Mark LT is the reason the Platinum trim of the F-150 exists, as it was created as a sort of replacement for the Mark LT in 2009.
Even though it wasn't a success here, Lincoln in Mexico saw that it was their best selling model, and a refreshed second gen was sold there with a grill similar to the MKT. It was also offered in 2 versions, a short-bed Dearborn and the long bed Cuautitlán. 
So remember, every time you see a Platinum or Limited trim F-150, know that they owe their existence to their predecessor, the Mark LT.