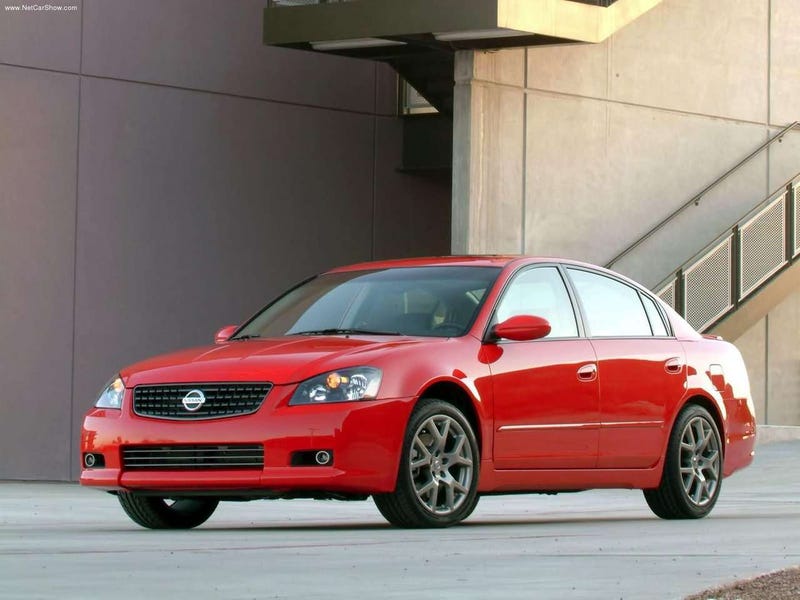 Last decade before Nissan was taken over by soul sucking CVT's and crossovers, their SR sporty looking trim had an E in it, as in SE-R. This was when Nissan was still at least trying with performance, unlike now. You could get Nurburgring tuned Sentra SE-R (with a forgettable overpriced turbo SR on sale now as sort of its predecessor) or the short lived Altima SE-R.

Only made with the 3rd gen Altima that was made from '01-'06, the Altima SE-R was only available for '05 and '06. Powered by Nissan's tried and true VQ 3.5 V6, it had 260 horses routed to the front wheels through a proper 6 speed manual and supposedly was made to take on the front drive performance cars of the time like the Acura TL Type S. Other changes brought to the Altima that made it SE-R spec were 18' wheels with sticky rubber, upgraded brakes, a stiffer suspension and a high flow exhaust that actually had a good burble to it.
Unique front fascia and a lip spoiler complemented the front and rear. Exterior color choices were limited to gray, silver, red and black. Car & Driver tested it in '05 and put down 0-60 numbers of 6.1 seconds and a good .86 g on the skid pad (Motorweek got 5.8).
Inside Nissan attempted to make the cockpit similar to the Z. 3 round gauges over the center dash, largely for show, gave info on oil pressure, voltage and pointlessly instant fuel consumption. Sporty aluminum pedals and thickly bolstered leather sport seats with SE-R embroidered that could be had with either red or gray inserts finished what was otherwise a plain mid 00's plasticky Altima interior.
If you can find one with good paint or one that's working its a good performance car many people forgot about. No hard production figures exist but what you can find say that there were 5 thousand made each model year for a total of 10k. Not many in the grand scheme of things.