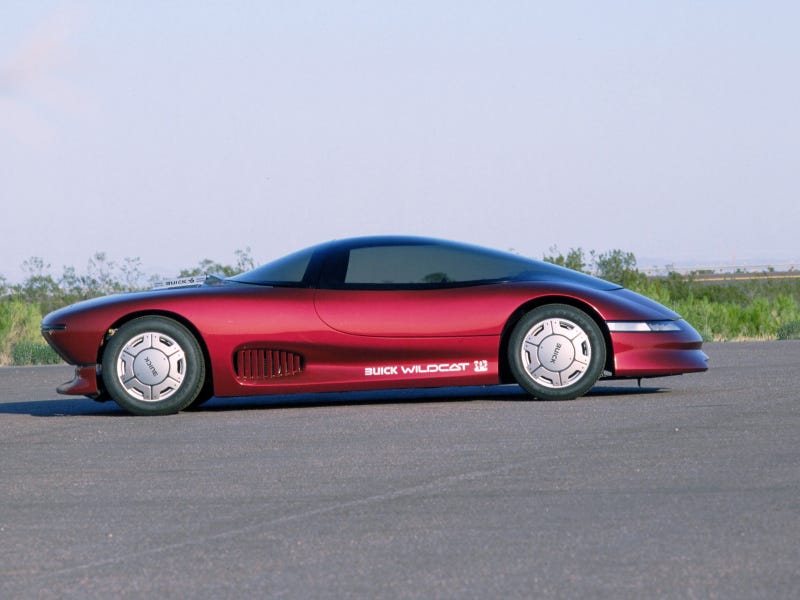 Buick brought this radical concept to the '85 SEMA show in Vegas. This was the 4th out of 5 Buick concepts dubbed the Wildcat. There were 3 made in the '50s, this one in '85, and then one in '97.
Two cars were actually built. The first one, brought to the SEMA show, was a non-functioning concept. The second, however, was a fully working model used for engineering tests. This car may have been a preproduction car used for development, but other sources claim this car was only a testing bed for Buick's ideas. GM still owns the operational concept car.
It featured a glass canopy style roof that lifted upwards to allow the driver and passenger to enter, much like the '69 Holden Hurricane and '96 Zagato Raptor concept cars. The Buick's steering wheel also lifted with the canopy giving the driver some extra room to get in. The body was made of carbon fiber and, obviously, glass.
The car's shape bears a visible similarity to GM's other high tech concept carts from the mid-80's and early 90's, like the Corvette Indy, the Oldsmobile Aerotech, and the Pontiac Banshee.
Corvette Indy
Pontiac Banshee
Oldsmobile Aerotech
The Wildcat featured a few "high-tech" toys as well. A screen in the center console displayed information like a compass, torque, g-force, and oil pressure. A Heads Up display on the giant glass canopy reported the car's speed, odometer, and gear selection. The steering wheel was a spoke-less hub. It was gloriously 80's inside the cockpit.
The drivetrain featured a McLaren built 3.8L V6, based on the Buick 3800, that made 360 horsepower and 245 lb/ft of torque. It was mounted in the middle, fully exposed to the elements. They didn't even put it behind any glass, it was just there, part of the exterior design. The Wildcat also had 4 wheel drive with a 33/66 split to the front and back wheels. The 4 speed auto transmission could be manually shifted, but the car surprisingly was governed to 70 mph and the ECU limited the revs.
Contrary to its radical appearance and robust spec sheet, the car only managed an 8.4 second 0-60 run and the aforementioned 70 mph top speed. Not cool, Buick, considering that the concept was brought to life to shake Buick's grandpa-mobile image. I'm surprised they didn't try it again after what they did with the GNX. Maybe one day when I win Powerball I'll commission one of these with proper performance that matches its image.
Hat Tip to Laird Andy for suggesting a write up on this car.
Sources:
http://auto.howstuffworks.com/1985-buick-wil… (Lots of good info here!)
http://history.gmheritagecenter.com/wiki/index.php…
http://www.caranddriver.com/features/could…
Photo credit