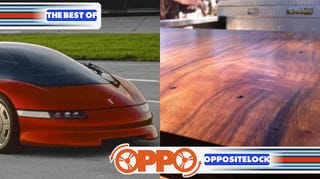 Assembled here are the best Oppositelock posts from last Monday and Tuesday. Today we've got the 1985 Buick Wildcat, life aspirations, Tesla's gigafactory and more.
Buick brought this radical concept to the '85 SEMA show in Vegas. This was the 4th out of 5 Buick concepts dubbed the Wildcat. There were 3 made in the '50s, this one in '85, and then one in '97. Two cars were actually built. The first one, brought to the SEMA show, was a non-functioning concept. The second, however, was a fully working model used for engineering tests. This car may have been a preproduction car used for development, but other sources claim this car was only a testing bed for Buick's ideas. GM still owns the operational concept car.
I first heard about Elon Musk well over a decade ago when I was reading a random article about his company, Paypal, being sold to eBay for an insanely deserved amount of money. Back in those days, I was a teenager and wasn't thinking about much other than finishing high school and figuring out which colleges to send applications to before that point. The only thing that mattered within that frame of time for me was to go to college and maybe end up like Elon Musk or any other young, wealthy individual. Like most things in life, my priorities altered during my last year of high school around the same time Mr. Lusk slipped under the radar for the most part after his first big venture in the world of business had paid out. Honestly, he was someone I had entirely forgotten about for quite some time until recently.
Lately, there has been a lot of chatter regarding Tesla and their bid to open their battery manufacturing plant, or "Gigafactory" somewhere in the US. Jalopnik writer and Son of Texas Patrick George earlier wrote of the "hypocrisy" his home state is spinning by banning sales of the Model S within its borders all the while asking for them to locate said factory in the Lone Star State (there is a little hypocrisy, but read on). I'm here to tell you that it might make PERFECT business sense by Mr. Musk to make batteries in Texas.
Apparently there's a huge backlash concerning the new sound of F1 and though it is pretty much established that evolution = F1 and it is not the show that should define Grand Prix racing, the audio experience of Formula One has been on a downward spiral since Ferrari bid farewell to its V12 engines at the end of the 1995 season.
This past week I received arguably one of the best birthday gifts to date, twenty four hours with a 2013 Nissan GTR and a GoPro to document it. I'll address the logistics first. My girlfriend booked the rental through Club Sportiva, an exotic car club/rental venue with a few locations in California. Picking up and dropping off the car was easy as can be and included a quick overview of the status of the car, a test drive with an employee to learn all the functions/toys and signing my life away in the event the car is involved in an accident.
I've loved cars most of my life. I think it's a tie between trains and sports cars, really. I blame my father. The stories of him working the pits for Briggs Cunningham, or doing Gymkhanas, or racing were always a highlight of the day for me. Oddly enough, finally at 41 for me and 74 for him are we working on a car together. It's a 1962 Triumph TR4 which was pretty solid and ran great when we picked it up from our friend Dave. Actually, it's the fastest TR4 I've ever driven, and still is.
The road from last time, Joes Hill Road, was a fairly fun, but narrow hill climb. The tarmac was quite damaged as well, to the point where it almost resembled a rally track. Frankly, if you headed there in anything wider than a Fiat 500, you'd probably end up bumping into a Buick LaCrosse, and frankly, you just don't want to do that. So, we headed out to find some roads more suitable to normal-sized cars, and we sure did find quite a gem... North Mountain Road in Connecticut.
There are cars that inspire excitement and promote a sense of status and luxury, and then there are cars that force us to challenge our preconceived notions of what qualities a car should have, and gives us something completely new - for better or worse. Ladies and gentlemen, this is the story of how I bought a car with one of the most divisive and opinionating designs ever made - the iconic Ford Taurus. Wagon.
If you love the screaming S14 four banger in the E30 M3 but shy away from its boy racer box flares and 2-door only configuration, then perhaps a trip to Italy is in order. In order to avoid VAT and higher vehicle taxes for engines exceeding 2.0 liters, BMW created a de-stroked version of the S14 for Italy and Portugal in 2 and 4 door versions that was called the 320is. It isn't a car you'd look twice at in person, but for those in the know it could be a bimmer-licious experience for about the price of a new 135i. Also check out St Patrick Wasn't Irish And Neither Is This Alfa 164 Quadrifoglio.
We have covered the Alfa Romeo 164 before here on Totally That Stupid. That doesn't mean we'll shy away from a nice example, especially after a nationwide search, and especially while still in the middle of winter when the pickings are slim at best. No, we'll continue to cover our favorite early-1990s front-wheel-drive Alfa Romeo sedan as long as clean, well-sorted examples appear on our monitors.
Another thread about identifying engine parts sparked my memory about a cool promo car that Chevrolet used back in the 68-69 era to showcase the 1969 Camaro. The exhibit was called the "Double Header" and it consisted of three rotating turntables. On the rearmost turntable was the body of a Camaro cut away to display the interior and other features. On the front two were powertrain and styling options- the first was a disc brake subframe with a cutaway 350/TH350 and RS front end while the second was a drum brake subframe with a 6cyl/PG combination and standard front end.
Volvo, the safest choice in automobiles, the Swedish form of auto safety, routinely quoted as the safest car on the road…Wow that was boring. Yeah Volvo's are safe, but really do any of us here care? Nope, and that's why this little Swedish company makes the R editions of their cars, for those intrepid hoon's that want both safety and insanity. These cars are very much like Saab's, they are a kind of hipsterish car. They are for those individuals that would forsake all of the German's, and Italians and say, "you know what, I want something a bit more out there, a bit more plain, but with a tad of stupidity. I want a Volvo."
Earlier today, our very own Deputy Editor in Chief could not identify a car! Ugh the travesty, the humanity, the gal, the….I can't think of any other sayings so we can stop there. I recognized the car immediately by the shape and distinctive front grill. The only problem was I couldn't remember the name either! I apologize for earlier remarks. I knew it had been on Tech Toys 360 so I did a little googling and found it fairly quickly, The Roding Roadster. Now the rest to come is to acquaint everyone with the car that allows billionaire playboys in Monaco to go under the radar and get Auto Journalists all confused.
One of our favorite little auto start-ups around here is Local Motors, they build stuff like the Rally Fighter. This monstrous beasty seen above. This car was designed and built using an open source nature where people around the world collaborated and sent the plans and ideas to Local Motors and they then built it, with the help of those that bought it! It's a crazy little shop
The 2003 Volvo XC70 is a v70 AWD with a taller suspension and wider fenders/bumpers. The AWD system is electronic, as opposed to being mechanical as it was on the p80 chassis models. Does this mean it's better? No. While there is no mechanical driveshaft that can be removed once it breaks, the XC70 has an angle gear that is very leak happy and any terrain worse than loose gravel tends to be straining on this system. Newer models have revamped Haldex systems that make the car better offroad, so keep that in mind if you're planning on buying one as a budget rally car. Also keep in mind that that is a terrible idea. Trust me, I tried.
Recently, sales for the new Mazda 3 have been released. Oppo and Jalopnik went crazy, questioning what is wrong with people and why they would "drive something as bad as a Civic or Corolla." I drive a Civic, so I became quite defensive. I want to let you into the mindset of someone who is driving an automatic Civic sedan over every other choice in the market.
So, My Friend Just Get A New Car. And I'm Jealous. He somehow found a used '2005 Toyota Crown. And because i'm a sucker for a Huge, 4-door sedan, i have to visit his home and borrow his brand new Crown. You Might think the E-Class Competitor from Toyota was the Lexus GS. But the problem was, the GS never sold in Japan. Instead, Toyota offers an alternative called "Crown". Also check out the quick ride in a 2002 Crown.
The Best of the Rest
Audi For Life took photos at Portland C&C. Decay took his FR-S to a track day, bro. It's a "Porch-uh" got his e39 M5 waxed. Trevor Mohr attended a private reveal for the McLaren P1. Jagvar went to Great Falls C&C. GRawesome had a great day checking out an Alfa GTV. CrzRsn took his first trip up to the Snake. Reigntastic's MR2 met up with a BRZ. WarShrike posted photos and video from TX2K14. DOMdotCOM shared some pics of his Cobalt. Euro Dan was in Prague over the weekend. Mycarneverruns87 shared pictures from Gas Monkey Garage and TX2K14. AncientOfDays made some more progress on his AMC Eagle. BiTurbo228 began assembling the engine for his Spitfire. ShelbyRacer78's crashed his Sable and then replaced said Sable with another Sable… Sable. Reborn Pyrrhic installed his Speedlines. RpM3 did some carspotting. Radial4.0 installed a short-throw shifter. Velocity polished his knob.
---
As always, If I've missed something and you would like me to include it, let me know.
Fun Discussions
There were several posts that asked questions and sparked some good discussion on Monday and Tuesday. Take a peek and chime in on some of those listed below:
Just the #tips
These posts have already been shared with Jalopnik directly but deserve to be mentioned again because they were first posted on Oppositelock:
Want to participate on Oppositelock? Check out the handbook for posting on OppositeLock as well the Oppo tools to help you get started.