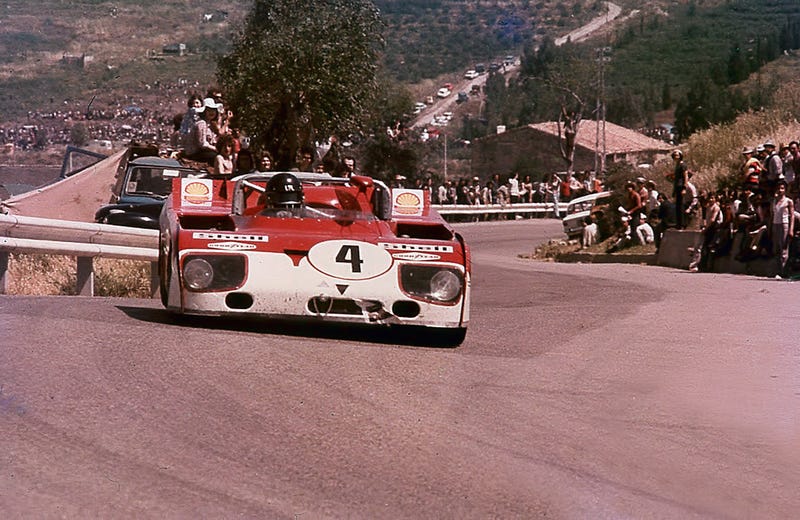 Last week on Sicily I could not leave out a short run on the old Circuito Piccolo delle Madonie, better known as the (public) route they (most of the time) used for the infamous Targa Florio.
As a big fan and frequent visitor of the Nordschleife I was totally freaked out because I felt this route was more entertaining, frightening and impressive than the Ring. The Ring sure is faster but passing buildings, cliffs and other obstacles at full speed should have been completely terrifying in the 60's and 70's!
On training days the road wasn't even closed, they only closed the roads when the actual race took place. No wonder it was stopped in '73 (international) and '77 (national) after some casualties.
As it's a 72km/45mile track it seems impossible to learn the complete track, no wonder both Ferrari and Alfa had to hire local hero Nino Vaccarella to win the race for them.
Only thing that really bothered me was the lack of decent transportation. The track-tool I used was this lovely rental on the right:
That's right. A Fiat Panda. If you're ever on Sicily don't forget to take this historic route. It's a quite simple counter-clockwise route between Palermo and Cefalu consisting of: SS120 (from the SS113 going through Cerda), SP24, small piece of SS643 (heading to Polizzi Generosa), SP9bis, SP9 heading Campofelice and the SS113 to Palermo before taking the SS120 again.
Just don't forget the road-conditions can be very, very bad. You see stuff like this all of the time, some parts are gravel as well.
Also live stock and the totally awesom Vespa Ape can be moving obstacles so going full throttle can be quite hazardous.
The guys of XCAR made a very entertaining and informative video of it if you're interested: