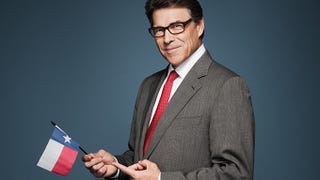 Earlier today the Senate confirmed former Texas Gov. Rick Perry as secretary of the department he once vowed to eliminate, reports The Washington Post. Perry was confirmed by a vote of 62-37.
Known by many as the governor with the good hair, Perry was the longest serving governor of the State of Texas. He took the oath of office in 2000 after soon-to-be President George "Dubbya" Bush resigned.
Sen. John Cornyn (R-TX), who voted in favor of Perry's confirmation, released a statement shortly after the news broke. "Under Governor Perry's leadership, the Texas economy soared. And thanks to his commonsense approach to regulation and support for thoughtful innovation, Texas became a state where all energy producers could thrive," Cornyn said.
"Under Secretary Perry's guidance, I have no doubt the Department of Energy will pursue an all of the above strategy that will lead to the next great era of American energy."
It's true that Texas is an energy industry-friendly state. And during his long tenure, Perry did his part to ensure such would continue to remain true. Texas is, as one of its mottos states, "wide open for business," after all.
The state's 27 refineries made it the ninth leading producer of oil in 2014— Perry's last year as governor — with approximately 3.2 million barrels produced per day.
That's ninth globally.
Texas is also the nation's leading producer of wind power, and one of the top wind energy producers worldwide.
Midway through Perry's tenure, a portion of south Texas got its turn at the state's boom-or-bust energy lottery with the beginning of the Eagle Ford Shale boom in 2007. Towns sprang up all across the ranch lands south and east of San Antonio to capitalize on the shale fracking bonanza. Though the industry took a hit in 2015, it's begun showing signs of bouncing back.
Wishing to waste little, savvy energy tycoons soon began to pounce on another opportunity: the natural gas that's also created via the fracking process. With Texas producing an excess of natural gas, new energy companies have scrambled to begin the arduous permitting process which will allow them to export liquefied natural gas (LNG) abroad.
Currently, only one terminal in Louisiana is operational, but about half a dozen LNG companies in Texas with billion dollar valuations are currently in the process of seeking approval from the Federal Energy Regulatory Commission (FERC) to begin constructing export terminals of their own.
Though Texas has many industrial ports which make it an enticing location to build (Houston, Freeport, Corpus Christi and Brownsville all come to mind), there's another reason LNG companies (and other energy companies) want to build here: we like to give them ridiculously massive tax breaks.
HUGE tax breaks. Nearly unbelievable tax breaks.
One such way companies are incentivized to build here is via the State's largest corporate welfare tax program known as the Texas Economic Development Act, or Chapter 313 (after the chapter number where it can be found in the State's tax code).
Chapter 313 allows school districts to offer large incentives and ostensibly get those businesses to commit to job creation and salary numbers in exchange.
Per the linked article at the Texas Observer:
Under the law, if a school district grants a tax break for a desirable new project, the state is obliged to cover the difference.
And:
In most cases, Chapter 313 deals are both a windfall for companies and a way for school districts to turn a neat profit. When districts sign away millions in corporate tax breaks, the state of Texas pays them back and lets them negotiate side deals with the company worth millions more.
There are no limits to the incentives that can be offered. Nor have many companies done much to assuage their opponents' fears in regards to how many jobs they'll create. Some promise zero jobs.
Chapter 313 has left the State of Texas on the hook to repay over $7 billion from its general fund.
Texas is the perfect growth medium for a person like Perry who, until recently, outright denied that climate change exists. As Mother Jones reported in December of last year, Perry once wrote that "we have been experiencing a cooling trend," and referred to climate change science as "so-called science."
None of that bodes well when the current presidential administration has also taken significant strides to neuter environmental protections and industry regulations. Already, the administration has relaxed regulations on the coal industry, has moved forward with the Dakota Access Pipeline and has threatened to severely hamstring or even abolish the EPA.
With all of that in mind, one has to wonder how Energy Secretary Perry will wreak havoc on a national scale. What will his "all of the above strategy," as Cornyn calls it, mean on this much larger platform?
It'll be a heyday for some, for a very select few. And those left to pay the price will be the communities who can no longer rely on the federal government for recourse in safeguarding their environment, their jobs or their wages.
Top image courtesy Texas Monthly.