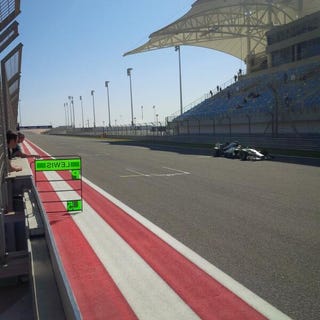 Good Morning ladies and gentlemen. So today starts off the third day of practice in Bahrain. Up today we will see everyone's favorite Finn, Kimi Raikkonen. Maybe he will spin his new Ferrari, maybe he won't. We will have to see. One story I will be following closely is will the other McLaren driver, Mr. Jenson Button, show up his new teammate with some quick laps! Lets find out, as always here are the standings so far today.
| | | | |
| --- | --- | --- | --- |
| 1 | Hamilton | Mercedes | 1m34.263s |
| 2 | Button | McLaren | 1m34.976s +0.713 |
| 3 | Gutierrez | Sauber | 1m37.180s +2.917 |
| 4 | Perez | Force India | 1m38.753s +4.490 |
| 5 | Massa | Williams | 1m39.528s +5.265 |
| 6 | Maldonado | Lotus | 1m39.642s +5.379 |
| 7 | Kvyat | Toro Rosso | 1m40.496s +6.233 |
| 8 | Ricciardo | Red Bull | 1m40.781s +6.518 |
| 9 | Raikkonen | Ferrari | 1m41.336s +7.073 |
| 10 | Ericsson | Caterham | 1m42.905s +8.642 |
| 11 | Chilton | Marussia | 1m46.672s +12.409 |
Update 1:To start it off, earlier today the Marussia of Max Chilton had stopped on track, it has been found out that there was an anomaly within the engine, they are going to change out the engine as fast as possible and put Chilton back on the track.
Update 2: It seems that we might not see anything anymore of the Lotus boys, earlier today Pastor Maldonado was driving the car and "it just stoppped" according to the Lotus Twitter page. They said they are investigating what happened, and it possibly is the gearbox.
Update 3: Hamilton was the only man out on track for awhile and was hovering right around the 1:40 range, but brings it to the pits.
Update 4: As Hamilton heads in the Force India of Perez heads out to be the only car on track.
Update 5: Perez having the track to himself is starting to push the Force India car going for faster and faster laps, his last was a 1:39, not his best of today but hopefully he's going to go for it.
Update 6: The Williams team Twitter just announced that they will be gathering the crew together to work with Massa on pit stops in a little bit according to their Twitter page.
Update 7: And on that last note, Massa heads out onto the track.
Update 8: It looks like Perez couldn't get the Force India faster than his previous as he pits the car.
Update 9: The Sauber of Guiterrez and Williams of Massa are the only two out on the track.
Update 10: Caterham are going a different route with the worrying about the weight of their driver Ericsson and giving him a 20 minute break and some lunch! That can't be good for their weight savings regimen.
Update 11: According to Jennie Gow's Twitter of the BBC, she just spotted every Jalops favorite eccentric mumbler running from Hospitality back to the garages, possibly to head out again? We will see.
Update 12: The boys from Infiniti RedBull are now out on track and sporting a lovely new livery!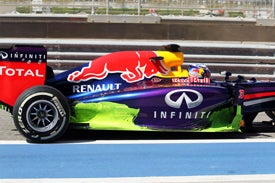 Ok, so they aren't going for the raver crowd, what this is is flow vis paint in order to see where the air is flowing around the car. Essentially it mimics a wind tunnel.
Update 13:Guiterrez is now lapping in the low 1:45s and Ricciardo in the 1:42s, so no shakeup yet of the top running order.
Update 14: According to Sauber teams Twitter, Guiterrez is back into the pits and looks to be back into the garage.
Update 15: In other non racing news, Mr Jenson Button got engaged. And according to McLaren's Twitter we all have to use the hashtag #attaboy to show our congratulations!
Update 16: Speaking of the McLaren driver he is now back out on the track. Maybe his new fiance will bring him luck?
Update 17: According to Caterham's Twitter, Ericsson is back in the car after a delightful lunch break to "kick ass and take names." Ok so they didn't say that, they said "Back in and ready to go @Eri csson_Marcus"
Update 18: Something major in the realm of F1 just caught my eye. According to Autosport who is talking to the Operations Director of Bahrain on Red Flags, the main reason why they have been taking so long is "We are under strict instructions not to touch the cars," he says. "When a car stops we red flag the session and wait until everyone is in the pits, then we pick up the team and take them to the car so they can recover it themselves and then we bring it back. We had a red flag for half-an-hour this morning [when Chilton stopped], but the reason was that the car was not safe as far as ERS was concerned. Even the mechanics were standing there waiting for the car to be neutralised. Due to the evolution of the cars with the electrics, we don't touch the cars until the teams are out there and that is by their own request." This is huge and I promise to discuss this later in my summary.
Update 19: Sorry Folks had to make my way in icy conditions to my actual work, normal service will now resume!
Update 20: While away Lotus brought out Maldonado and subsequently had to bring him back in after something gave out on the car. Though the Lotus team is stating that they are working on it and hopefully will have the car back out soon.
Update 21: Here are the updated standings
| | | | |
| --- | --- | --- | --- |
| 1 | Hamilton | Mercedes | 1m34.263s |
| 2 | Button | McLaren | 1m34.976s +0.713 |
| 3 | Gutierrez | Sauber | 1m37.180s +2.917 |
| 4 | Perez | Force India | 1m38.221s +3.958 |
| 5 | Massa | Williams | 1m39.528s +5.265 |
| 6 | Maldonado | Lotus | 1m39.642s +5.379 |
| 7 | Raikkonen | Ferrari | 1m40.013s +5.750 |
| 8 | Kvyat | Toro Rosso | 1m40.496s +6.233 |
| 9 | Ricciardo | Red Bull | 1m40.781s +6.518 |
| 10 | Ericsson | Caterham | 1m42.905s +8.642 |
| 11 | Chilton | Marussia | 1m46.672s +12.409 |
Update 22: Everyone's favorite mumbler is indeed out on track and setting some personal bests, lets see if our Iceman can crack Hamilton and Button's fast laps.
Update 23: Ferrari confirmed that the reason why Kimi has been stuck in the garages and pits today were caused by telemetry problems with the car. They didn't go into any further detail.
Update 24: Perez finds a second on his best, but not enough to take out Guiterrez, but then pits leaving Button and Ericsson on the track by themselves.
Update 25: Ericsson and Caterham are trying to break the 100lap mark for the Renault powered cars today, and they might do it, Ericsson has been on the track probably the longest out of anyone today.
Update 26: According to intrepid BBC reporter Jennie Gow, "By the end of the day here in Bahrain @WilliamsF1Team are looking to have done 50 live pit stops and 20 static pit stops."
Update 27: Mercedes Ace Lewis Hamilton current fastest man is still in the garage due to an apparent hydraulic issue, no word on whether or not we will see him again as we move into the last hour and a half of testing.
Update 28: Maldonado is back on the track after the boys at Lotus hopefully fixed the issue that stopped him earlier.
Update 30: Joining the fray out on the track are also Gutierrez, Button, Kvyat and Perez. Massa still apparently is making many pit stop practices.
Update 31: Mercedes has just fired up the car with Hamilton in the seat, I guess we will see the Briton back out on the track!
Update 32: Edd Straw of Autosport reports that the Mercedes will be heading out on the Medium compounds. This might mean that the team is just testing different setup's and not going for full fast laps, as that would most likely use the Supersoft compounds Hamilton was using earlier.
Update 33: Lewis heading out
Update 34: Button makes a brief, albiet long pit stop. The delay might have been due to a tire not seating correctly at first. #practicemakesperfect
Update 35: According to lovely lady on the street Jennie Gow, the Renault powered cars are being sandbagged right now intentionally by Renault and are not allowed to be running full power. Their current mapping allows for about 100-150hp less than the other teams. That does not bode well for the reigning world champs.
Update 36: Massa breaks off from doing pit stop practice and puts down a 1:38.6 which improves his best time but not his rank.
Update 37: RedBull has suspended its testing for the rest of the day due to unannounced problems.
Update 38: Raikkonen improves his best by clocking in a 1:37.4 bumping him up to 5th just short of Perez. Could be that the Finn is going for the top spot!
Update 39: According to the Williams Twitter page, they completed 43 pit stops today.
Update 40: Speaking of Williams, their ears must have been burning, Massa pulls in a 1:37.0 putting him in 3rd overall today!
Update 41: And that's it the checkered flag has dropped on today's testing session. Here are today's final results!
| | | | |
| --- | --- | --- | --- |
| 1 | Hamilton | Mercedes | 1m34.263s |
| 2 | Button | McLaren | 1m34.976s +0.713 |
| 3 | Massa | Williams | 1m37.066s +2.803 |
| 4 | Gutierrez | Sauber | 1m37.180s +2.917 |
| 5 | Perez | Force India | 1m37.367s +3.104 |
| 6 | Raikkonen | Ferrari | 1m37.476s +3.213 |
| 7 | Kvyat | Toro Rosso | 1m38.974s +4.711 |
| 8 | Maldonado | Lotus | 1m39.642s +5.379 |
| 9 | Ricciardo | Red Bull | 1m40.781s +6.518 |
| 10 | Ericsson | Caterham | 1m42.130s +7.867 |
| 11 | Chilton | Marussia | 1m46.672s +12.409 |
So day 3 is over and some very interesting stuff happened and some very interesting information has come to light. That is where I will start off first. The fact that the teams are telling the safety crews not to touch the cars due to the ERS systems if they have a shunt. This I really can't wrap my head around. Not only are the cars unsafe for the crews trying to assist the drivers , but that also has to mean that the cars are unsafe for the drivers who potentially have to exit the cars quickly in case of emergency. This cannot be correct, or else we are potentially going backwards in safety standards. We will have to follow this story more carefully, I will try to do some research into this and put a post up about it.
Other big news is again problems for the World Champs. They just can't seem to get that car dialed in without something going wrong with it. In addition to all their personal team problems, they are also working with a deficit of Horsepower coming from a directive from Renault. Can the engines not withstand full throttle? What is going on with their engine mapping. Tomorrow and next week are going to be big hurdles for the boys at Infiniti.
The two men of the hour today were Hamilton showing he still can be a world champ, and Button showing McLaren and everyone else he still has it in him and can take it to his younger teammate.
Most notably are all of the other teams that have been historically at the back of the pack are now improving greatly and are kicking around the big kids table. Sauber, and Williams most importantly. This as stated in the last few posts is going to be a great season. The doom and gloom are washing away, now I just hope that the cars will sound better at full race pace and all together!
Stay tuned tomorrow for the final day of testing this week!
Also check out my new series from the Chicago Auto Show Sittin Waitin Wishin.
You can find me here on Twitter!
Photo Credit to Mercedes F1 Twitter, and RedBull Racing Twitter.