Stance is stupid! Drifting is not a sport! Teenage boys screwing around is what it is! It is a fad that will die, just like stanced cars, skateboarding and the internet.
Yes, I can already hear your flaming comments. But consider this: Stance goes way back to hot rod culture, and low riders were "nonfunctional" cars lowered for aesthetic reasons as well.
Cool looks have always been part of the drift culture, and to this day you will find super low Nissans at most grassroots drift events. Formula Drift is the opposite of grassroots with big companies and manufacturers sponsoring drivers, but still privateers and independent drivers manage to surprise and win behind the wheel of some of the most powerful and hard to drive cars in the racing universe. Just ask Orlove. And then ask him again.
With season 11 kicking off in Long Beach on April 4th and 5th, it is time to preview who is competing and what else is interesting to know for people who plan to follow the championship.
The Competition
Formula D is best understood by simply watching it, and I guarantee you it is far easier to understand than American football. But I will try to sum it up as quickly as possible.
First, you have qualifying. The drivers run the track on their own and are judged by criteria like speed, angle, style and proximity to clipping points. The maximum score is 100 which was achieved once. All drivers get two runs, and only the better one is being rated. After 2 runs every one, the best 32 drivers are eligible for the main competition.
Formula D's main battle is organized in a K.O. style bracket system. The best qualifier takes on qualifier #32, and #2 on #31, and so on. Both drivers are on track at the same time, with one driver leading and trying to make a run as quick, smooth and smoky as possible, while the following driver's job is to follow as closely possible. The 3 Judges again judge speed, angle, style and proximity from both drivers. After Run 1, the roles reverse and the drivers switch from chasing to leading or from leading to chasing.
When the second run is complete, the judges decide which opponent had a significant advantage over the other and vote for him to move on. They can also call a "One More Time" when it was too close to determine a winner, and it all starts over again. A driver needs 2 votes from 3 judges for him to move on.
That's pretty much it, it all goes on until 2 drivers remain, and they go for a final battle to see who will get the biggest carbon fiber trophy.
As for championship standings: starting in 2013, FD added a tire manufacturer championship and a vehicle manufacturer championship to the usual drivers overall standings.
For the tire championship, all points of competitors using a certain tire brand are added up, and the brand with the most points wins in the end of the season. Very easy.
Now, as you will see below, most cars are engine swapped of some sort. A very popular choice among aspiring drift stars is an S-Chassis Nissan (S13 and S14 mainly) coupled with a reliable LS engine, often upgraded with a supercharger or turbo. But who would you give points to in a vehicle manufacturer championship? Chevrolet for the engine, or Nissan for the chassis? I honestly wouldn't like to decide that.Therefore, only cars running an engine from the same brand or company are counted in for the manufacturer championship. A quick example: Daigo Saito will score points for Lexus, as his SC is running a 2JZ engine, an engine that is made by the same company. Charles Ng and his LS swapped Infiniti G37 are of course not scoring points for Infiniti or Chevrolet.
The Tracks
For as long as I can remember, FD was visiting 7 tracks a year. It stays like that for this year too, but an expansion is always a possibility considering the solid growth of media and fan interest.
Traditionally, the Long Beach GP marks the end of a long, smokeless offseason. The competition will see usage of the turns 9, 10 and 11, or the east end of the circuit, while the pit location remains. Also, a showcase of stanced/modified cars organized by Fatlace is part of the ritual. Thanks to the very close walls and the freshly finished cars, surprises are just as common as big wrecks that can affect the whole season. Just Ask McNamara.
The biggest party is held at Road Atlanta every year. The fans surround turn 10 (the S-curve after the long back straight, before the paddock) and drink as much beer as possible while the drifters battle it out in the horseshoe. In the past, exciting battles and rain showers have been part of the visit to Georgia, and if is one of the best events of the schedule.
Something unique to US drifting is the usage of ovals. It is a more or less logical decision considering the vast amount of oval tracks available for all sorts of stockcar racing. Homestead Miami Speedway is a new addition and replaces Palm Beach as the Florida round. It is still unclear how the track will look like and what part of it will be used.
From a state of the art oval that hosts the NASCAR finale every year, the sideways circuit travels to the east: Wall Speedway in New Jersey hosts the fourth event, and at this point, the championship contenders will start to filter out. The track itself is not used by NASCAR anymore, but the drifters try their best to impersonate the stockcar racers by riding one half of the banked curve before dropping down to the infield. It is my personal favorite track of the whole year. The layout makes for close competition, and there is just something cool about witnessing an oval being taken on full lock on purpose.
Now that the season comes to a close slowly, Evergreen Speedway is next. Again, the banking of the speedway is driven at incredible speeds before slowing down in full swing. A very fluid track, and the Washington State crowd really enjoys the action unfold.
Yet another oval is tackled in the penultimate event of the season. The huge Texas Motor Speedway offers its infield for the second time. Not the best course I would say, as it basically is a high speed chicane and a 180° turn. And it never looks packed thanks to the huge facilities in the background.
And then, it all is over. The season ends with a bang. Irwindale Speedway, called "The house of drift", will see a champion determined. Fast banking is followed by tight, technical corners, and as night falls, the always sold out venue will see drama and action. Unexpectedly strong drivers, mechanical failures and luck all forge the last carbon fiber trophies.
The Drivers
Because there were more than 50 drivers trying to qualify for the main show in 2013 events, I will outline the most interesting, well known participants and rookies/youngsters you should keep an eye on. Also car choices are sometimes not clear or final as most teams did not present the vehicle yet or are still in the process of building.
Daigo Saito | JPN | #1 | Achilles Tires Lexus SC
Daigo "The Ninja" Saito (or Diego Santos if you believe drunk reporters) brought a whole new level of close tandem drifting to FormulaD when he took the title in his rookie 2012 season. It was not that much of a surprise considering that he has a D1GP title under his belt and that his weapon of choice is a crazy Lexus SC. He bought the flood damaged car and replaced pretty much everything. The end result is an open top, 1200hp roadster that smokes Achilles Tires all day long. While single runs aren't his strong points, wheel to wheel duels is where he shines with the biggest win rate in the whole series. If he gets beaten, it either is by mechanical errors on his car or the other drivers drives the wheels of his car. Take a look at what probably was the best battle ever:
Fredric Aasbo | NOR | #151 | Papadakis/Scion Racing tC
He has one of the biggest fanbases, and his fans call him the Norwegian Hammer. It is because of his flamboyant driving style and how he made an impact in his Supra "Chucky" that was only held together by courage, will and tape. His ballsy driving secured him a works deal at Papadakis Racing who built him a RWD converted Scion tC with a 800hp fourcylinder. The car and Aasbo evolve every year, and while he hasn't won yet, he is a regular top 4 finisher. For this year, the car will receive an all new bodykit with signature Rocket Bunny overfenders and new colors. His time will come, maybe it is this year. He has got the talent, as evident in the video from above.
Vaughn Gittin Jr. | USA! USA! | #25 | Nitto/Monster Ford Mustang RTR
Ready to Rock! Vaughn is the Ken Block of FD. Monster is one of his main sponsors, he drives a Ford and he is commercially the probably best "selling" drifter. He is a veteran and started in an S13 like most of the drivers, but he soon switched to 'Stangs. It was rumored that he would build a 2015 Mustang, but he decided to run the old chassis instead.
After getting a championship in 2010, he was close to making it two, but in every season after he had one event where he lost all his chances thanks to mistakes like failing to qualify. Still, with his experience and a big budget/great team behind him, he will be one of the guys running for the overall victory.
Justin Pawlak | USA | #13 | Falken Tire Ford Mustang
Yeah, another Mustang going sideways. This Ford is sponsored by FDs biggest team and tire supplier, Falken. Justin Pawlak started his career in a RX-7 which was stolen at some point, and after moving to the blue oval, he racked up a few wins but never had a perfect season resulting in a title. I really don't know what else to write here, but Oppo user hotballs who grew up in the same town as Justin does:
I guess Justin isn't the most PR guy so maybe there's not a lot out there on him, but his story is incredible and inspiring. One of the few guys who built and raced what he brought to become a pro. Winning Just Drift, swapping trannys in his FC Rx-7 in a parking lot to get on podiums. Moving to Oregon to replicate drifting in the rain and mountains like the Japanese just to get better. If he says he's going to do something he does it. He doesn't like the cameras, but he's an honest and real dude. He's a judge and big supporter of Just Drift and anything grassroots type racing. I'm surprised he's not more popular.
Chris Forsberg | USA | #64 | NOS/Hankook Nissan 370Z
Jalops should know this bearded guy by now. He was on Drift Garage, showing how to build a budget drifter, and he lend a certain editor his S13 which did not end well. "The Force" Forsberg is a veteran in the series, and has been driving Z-cars for quite a while now, and they all were running Nissan engines. For this year, he added nitrous to close the gap to the 1000hp turbo cars. After winning a championship in 2009 he was super close to win in 2013, but it wasn't enough – expect him to get revenge in 2014.
Mike Essa | USA | #101 | Bilstein BMW M3 E46
Mr. Essa had a great season last year. After years of driving BMWs that were not up to FD standards like a V10 E92 and a Z4, he decided to build an E46 M3. It was a simple and straightforward build with a Turbo inline 6. But the car worked. Since Long Beach he showed the potential and was a regular Top 4 finisher for the whole season. In the end, he managed to snatch the title while being a privateer with no major sponsor like Forsberg, For this year, the car was updated with a rear radiator setup and more power. Essas goal must be to defend the title, although it won't be easy at all.
Darren McNamara | IRE | #8 | Falken Tire Nissan S14
Another teal and blue driver is Darren McNamara from Ireland. After driving one of the best looking cars for years, a Saturn Sky by ASD, he switched to a V8 powered S-chassis when he wrecked the Sky on the Streets of Long Beach. He still doesn't seem to be as comfortable in the car as he was before, but I have no doubt that he will come back to the podium again. Also check out his sick rotary powered AE86 he created with Speedhunters.
Daijiro Yoshihara | JPN | #9 | Discount/Falken Tire Scion FR-S
It will be a new experience for Dai. For as long as I can think of, he was driving a badass LS swapped S13 with a full bodykit and the distinguish Discount Tire graphics. It made him champion in 2011, but the team decided it was time to switch to something new and started developing a FR-S build during the 2013 season. The result should be quite impressive as the car is said to have 1300hp. The horsepower war is officially on. It also will be one of many cars to wear a Rocket Bunny kit. Oh, and the livery was community designed by Forza 5 users, which can only be a good thing after what Falken ran in last years Petit Le Mans.
Conrad Grunewald | USA | #79 | Hankook Tire Chevy Camaro
At one point in FD History, the muscle car war was raging: Mustangs took on Challengers and Camaros. Dodge left, but there is at least still one Camaro left, and it also is wearing a full Hankook livery. Conrad Grunewald proved to be a good driver, but he is missing a bit of consistency. Maybe that's why he was a threat for single events only so far, but never managed to come close to championship. But it is good to have him in the series, at least he knows how to properly throw his car into a corner with the rear first:
Matt Field | USA | #777 | CX Racing/Nitto Tire Nissan S14
Matt Field really worked his way up in drifting. It all started in 2012 when he battled Daigo Saito and his insane Lexus SC so hard that the judges couldn't decide who the winner was. After 3 battles that night, the judges ruled for Saito, and the crowd went nuts and was disappointed as they felt Field deserved the win thanks to his great performance in a far less developed car. Since then, Matt had great 2013 season that included a podium finish - a great achievement for any privateer. For this year, he revised his trusted Nissan S14 to be more competitive and also moved into a new garage where he built a car for returning WTCC racer Charles Ng. I expect big things from Mr. Field, he will be a threat to the established guys.
Robbie Nishida | JPN | #31 | Achilles Tires Lexus SC300
Another 2JZ Lexus SC racing on Achilles Tires is driven by Robbie Nishida, but unlike Saito, he chose an older model. Robbie had a few great weekends last year and could match Saito for pace, but once again consistency was a miss. The good thing about teaming up with a driver as strong as Saito is that he can clearly transfer a lot of knowhow on car setup and driving itself. Will he be able to maybe even defeat the world's best drifter? Who knows, it is possible if he gives it 110% all the time.
Chelsea Denofa | USA | #88 | BC Racing BMW E46 Sedan
The second E46 going sideways in the series belongs to a young man called Chelsea Denofa. Denofa has been driving 4 door Bimmers in FD since 2012, and he managed to really impress with super smoky and stylish runs in his old E36. It all came to a stop when he crashed into Tyler McQuarrie/Tyler crashed into him. The chassis was totalled, but some parts were pulled out and transferred to a fresh E46 chassis. Being a privateer meant that mechanical trouble never was far away, and it was Chelsea's weak spot. Every so often his car lost power or didn't make the start. It was the only thing that stopped him from achieving podiums. More reliability was the goal for the build process of the 2014 car, and if he manages to sort it out, he surely can surprise the crowd. Also make sure to check out his video series "Say howdy, get rowdy".
Ryan Tuerck | USA | #62 | Retaks/Fifteen52 Scion FR-S
You probably know Ryan Tuerck. He gave the internet many fun videos, including drift games with his mates Gittin and Forsberg or beautiful short films of him relaxing during the off season. Like many drifters, Ryan started off on two wheels: BMX and Motorbikes. Then, at some point, he saw Japanese drifting on a VHS cassette and got himself an S-Chassis. As of now, he is rocking a Scion FR-S that has been treated with a stroked 2JZ engine, good for at least 700hp, probably more. What to expect this year? Cool style, and Top 4 finishes. And fun videos.
Ken Gushi | JPN | #21 | Greddy Scion FR-S
If there is one driver that had a disappointing 2013 season, then it's Ken Gushi. We all thought that his fresh FR-S, wearing a cool blue/white Greddy USA livery, would be finally the car that could help him in his championship assault. But as always when you tune something to the max, problems appeared. He failed to qualify, or sometimes his car even burst into flames. Strange, it isn't a Ferrari. Anyways, the troubled 4-banger is gone, and while that means no more WRC like Antilag sounds, the new 2JZ engine with 1200hp should be quite something. Optically, a new bodykit and livery complete the fresh start for "The Gush".
Charles NG | SGN | # | Maximum Attack Infiniti G37
Speedhunters teamed up with Charles NG to bring him back to drifting. For the last two years, Ng was racing a BMW 320TC for Engstler in the WTCC, and therefore is probably the only drifter who has competed in an FIA World Championship. His new car is built by Matt Field and his newly opened shop, and the partnership with Speedhunters does not only mean huge hashtags painted on the car, but also results in good, solid funding. The ever popular LS engine is also driving the G37, but it has been massaged with a twin turbo kit for more torque and power output. It is good to have Charles back, and it shows just how skilled the drivers have become.
The rest of the field
Forrest Wang is in for his second year, and he is back in his super stylish green "Get Nuts" S14. Fan favorite Danny George is also competing, and he is driving the official Jalop mobile: a Miata with an LS. Smokey! Dennis Mertzanis is working for Hyundai USA for a living, and therefore will bring a Coupé to the track. And Dean "Carnage" Kearney already made some carnage and wrecked his Viper during practice in Long Beach.
The Media Coverage
The great thing about FD is that they really figured out their media exposure. First of all, there is the official Livestream (formulad.com/live). Dailymotion is partnering with FD to bring you the best live drift stream possible. To find out when to tune in, visit the official FD page and select the event – a detailed time schedule can be found there.
Then there is the secondary media. Wrecked Magazine a great source, and they are usually one of the best informed sites out there. From driver updates to discussions and analysis of controversial decisions, they cover everything.
OMGdrift is a similar blog, and additionally offers high quality photographs. Speedhunters also beautifully covers every event.
Short movies about the event are available from many different sources. Chelsea Denofa has his own "Say Howdy Get Rowdy" series on Vimeo, and Network A debuted its highly successful "Off Track" format that features the best battle, driver interviews and some fun bits.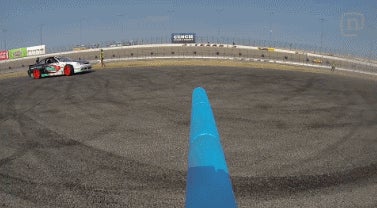 Got you hooked? Got questions? Want to tell me how stupid I am for promoting a stupid sport? Go let it out in the comment section.
All pictures belong to their rightful owners.