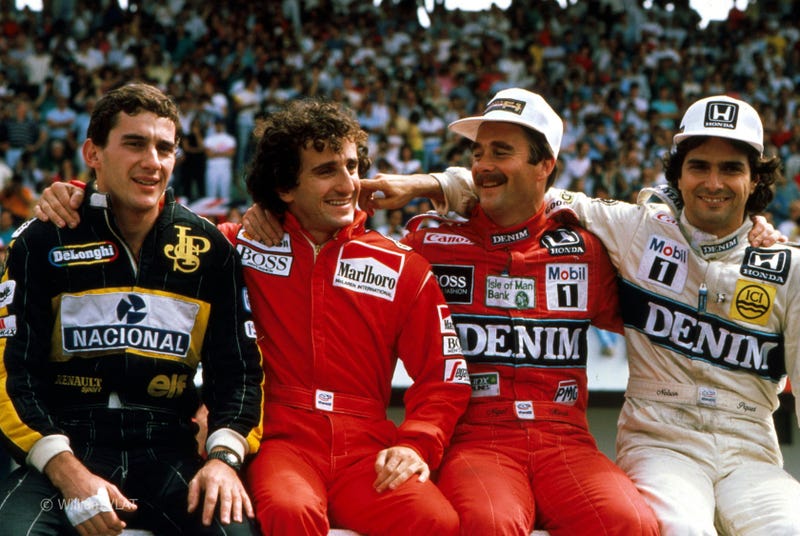 A couple weeks ago, I took a little bit of flak for saying that Monaco wasn't enjoyable compared to the Indy 500 that takes place on the same weekend. However, Monaco this year was actually enjoyable because of a few key drivers, and the same drivers have created entertainment out of the last few races as well.
Monaco How I Saw It
Sergio Perez alone made the race worth watching, with his constant and aggressive attempts to pass other drivers around the circuit, which culminated in a collision with Kimi Raikkonen and this gem.
Pastor Maldonado, whose crash forced the red flag, has been a perennial entertainer at races because of his driving style and his propensity of retiring himself almost every race since the 2012 Spanish Grand Prix. It's a pity that Max Chilton hit Maldonado because I lost a bet on when Maldonado would take himself out of the race.
Romain Grosjean was quick, but constantly crashed from practice all the way to the end of the race. Felipe Massa just locked up in a crash eerily similar to one in practice.
Fernando Alonso, the only Latin driver on the grid who is a past world champion, was driving a controlled race, because of his low points tally and his need to finish. But his performance at Catalunya this year stressed his commitment to all out passing and driving.
Raphael Orlove spoke about all these incidents at Monaco before. But the common bond? In all the incidents, a Latin driver was involved, and they were driving unbound to the "rules of passing."
On the other end...
Contrast that with the four cars that were constantly in the lead: Rosberg, Hamilton, Webber, and Vettel, who all drove a very controlled race, managing their tires and not trying hard to pass, especially Hamilton, who in my view should have taken a few risks in passing Webber, especially when he was faster.
Raikkonen was the exception to the rule when closing the door on Perez and passing all the cars after the unscheduled pit stop to finish with a point. Had Perez been in the same position with the chance of a podium finish, I know he would have taken that risk.
All of the other non-Latin drivers yielded their positions relatively easily to the top drivers, in the attempt to just finish the race rather than compete with whoever was attempting to pass them. Such a thing happened when Bottas simply let Kimi pass him at the end when Kimi was attempting to finish with points.
I'd like to think that Sergio Perez is the new Juan Pablo Montoya that Raikkonen has to contend with. (I would have given anything to be a direct spectator of the relationship between Montoya and Raikkonen at McLaren. Even more than Prost-Senna.) Raikkonen and Perez battled each other before, even during the Monaco in 2012.
The Latin Driver
The Latin driver almost always cannot be restrained. He must drive to the best of his ability and be the fastest one on the circuit. It is no-holds-barred driving at its finest. This is full of clichés. But it is THE Latin driver, and what the audience has been missing.
For me, Latin drivers have always contributed to the entertainment aspect of Formula One. Thinking back, one of the best decades in Formula One, the 1980s, involved the Latin drivers left and right. There was Ayrton Senna, Alain Prost, Nelson Piquet, Riccardo Patrese, Gilles Villeneuve, Didier Pironi, Clay Regazzoni, Elio de Angelis, René Arnoux, and much, much more. Turbocharged cars may also played a role in the fun, but there was no way that a group of talented and determined Latin pilots were ever not going to pass another car.
But these drivers were allowed to drive to their limits, rather than the team's, most, if not all the time. In fact, when Andrea de Cesaris was in F1, part of the fun was betting on when he would crash, instead of giving way to the talent. But eventually, even that enjoyment of the Latin drivers came to an end.
Who's to blame?
For the relative lack of Latin drivers in the sport, I have to blame the most Latin F1 team of them all: Ferrari. They kicked off the trend of not relying on Latin drivers when they replaced Gerhard Berger and Jean Alesi for Michael Schumacher and Eddie Irvine for the 1997 season. After Irvine left and Rubens Barrichello and later Massa came in, the Latin driver always had to stand down in favor of the German. This meant a top driver and supporting driver strategy which came to be strictly enforced except in 1999. (Il Commendatore would never have approved.) It certainly made Ferrari much more successful, but some of the entertainment of F1 had been taken away in favor of race strategy, furthered immensely by Ross Brawn.
I have a feeling that Ferrari overcompensates for this now, with two Latin drivers, but they haven't won a Constructor's trophy since Raikkonen left in favor of Alonso. Massa is also the one in the team with second priority compared to Alonso.
The Low Point
The 2000s marked a nadir for the Latin driver, when Michael Schumacher was winning both races and championships left and right. When Montoya came into the fold in 2001, it demonstrated what a Latin driver could do in terms of providing entertainment and actually challenging Schumacher. And Montoya never had to give way to Ralf Schumacher at Williams or Raikkonen at McLaren. (I'd also like to think that Sergio Perez is the new JPM that Raikkonen has to contend with.)
Jarno Trulli also provided some entertainment as well, especially when he won Monaco and when he was battling Alonso for supremacy at Renault. However, even with Alonso maintaining his dominance, there haven't been more Latin drivers at the top teams.
Here's a video of Trulli doing his thing, since we all know what Montoya is capable of:
So...
I propose that Bernie Ecclestone and the FIA put some new stipulations in the rulebook. All Formula One teams must have at least one Latin driver in their ranks. Most teams follow this rule, with the exception of Mercedes, Red Bull, and Force India. Ferrari will only be limited one Latin driver, for their own good in order to win championships. Furthermore, both drivers will be equal for the first ten races in order to establish who is dominant within the team. Nobody wants to be the clear number 2 driver, especially if they're Latin. Just ask Rubens Barrichello.
If a team can't find a Latin driver, let me help (though this will most likely be refused). The top two drivers currently in GP2 are Latin (Monaco and Brazil). Furthermore, the top two people in GP2 last year, Davide Valsecchi and Luiz Razia, from Italy and Brazil respectively, are up for grabs.
As much as I like the Finnish drivers (Raikkonen is a legend), there never is much "attitude" in their driving. The British drivers are just very British (with the exception of Hamilton though even he's falling in line with the PR people). I haven't really formed an opinion of the Dutchman van der Garde. Webber speaks his mind but follows the team orders on the track. The Germans are just German for the most part (though Sutil showed off his immense chops during Monaco and is an honorary Latin driver in my view for certain things he's done).
Does anyone disagree that F1 needs more Latin F1 drivers?
Special thanks to my buddy Bilal for his help with this article.
Cover photo courtesy Rach F1. Monaco start photo from thestar.com. Special thanks to Mercedes for the Monaco Grand Prix image with the Mercedes cars and Red Bulls. Ferrari image from Speedcafe.com. Credit to F1 Fanatic for the Senna, Prost, Schumacher image and Ferrari championship image.