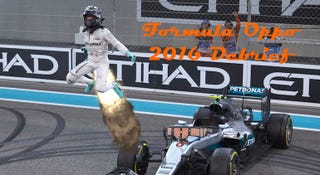 Well, well, well, the party's over. Nico Rosberg is your F1 champion. But the real question is, who is the 2016 Formula Oppo Champion? Find out below!
Congratulations to StingrayJake, this year's Formula Oppo Champion! He will be getting the coveted Gilded Bernie Trophy. The rest of you are a disappointment.
Three years in. Three different champions.

Now I know that as the seasons have progressed the amount of participants has decreased. Most of it has to do with what a lot of people call, "boring and predictable racing." There's nothing that I can do about that, except for saying that these people are full of shit. The other cause might be the fact that after 4 races missed and you're out. I don't know if I should continue this next year or even if Formula Oppo will happen. I'm on the fence still, but chances are high that we will be back for a 4th season as the 2017 cars are going to be wicked faaaast.