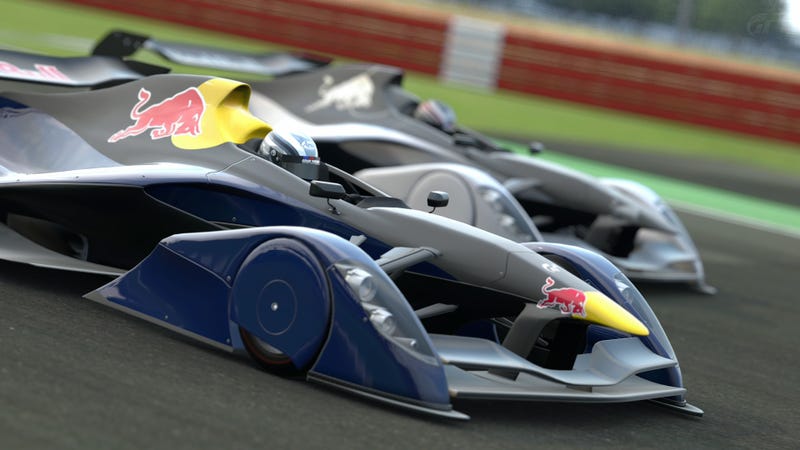 (Round 2) In honor of the upcoming Spanish Gran Prix, I am proposing a Formula Oppo Spanish GP on GT6. The race will be held on the Ascari track, as it is in Spain. Please let us know if you are interested. More Details Below
And be sure to keep up with Formula Oppo: The José A Banko Grand Prix of La Furia Roja and see how well you can place your fantasy team.
Round 1 (Australian Gran Prix) Results.
---
Start Time:
Saturday the 10th of May.
Room will open around 9 PM CT or soon thereafter.
Race will begin at 9:30 PM CT (this may change if a consensus arises)
---
Race Details:
Grid start based from a qualifying session preceding the race.
30 laps (pits necessary)
Fast fuel and tire wear (aiming for around 2 pit stops).
Prohibited:
Traction Control

Nitros

Automatic Steering

[other stuff I'm forgetting]
Available:
ABS
[feel free to ask any questions below.]
---
Cars:
Vote below between the Formula Gran Turismos or the Red Bull Juniors.
The Red Bull Junior can be won relatively easily as part of the Red Bull X Challenge. If you don't find time to complete this, it is purchasable from the dealership for 200,000 credits.
Whereas the Formula Gran Turimso can only be bought and costs around 2,000,000 credits.
---
Room:
Formula Oppo - Spanish GP
---
Mood:
This race will ultimately be for fun, but a semi-serious racing atmosphere (this means no driving backwards, being a dick during passing/blocking, etc.) will be encouraged.
---
Who Is Allowed To Participate:
Anyone.
Tell your friends.
---
Commentary:
Is anyone willing to act as the race commentator(s)?
---
Podium Ceremony:
Post will be created on Oppo following the end of the race.
---
Questions, Comments, Concerns?