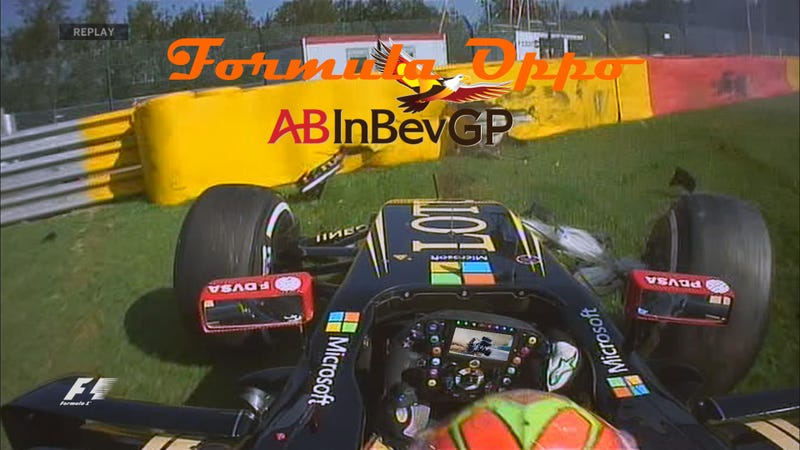 Welcome back to Formula Oppo! I hope you had a good mandatory 3 week vacation and are ready for some more excitement at the speed of spa!
Previous to the break, this happened. Lewis surged ahead to first place and never looked back. The Australian drank his second place champagne from his shoe while chanting, "AUSSIE, AUSSIE, AUSSIE! OY! OY! OY!!!" With the Wee Baby Max Verstappen finding life was good in front of Rosberg when he could turn the wheel. Everyone else got to taste the disappointment of half of the season gone and not being possibly able to compete for the top step.
This week we head to the historical hot baths of French Germany. The action looks to be promising and the last of the true 2016 developments will be brought into action. Yes, maybe now will be the time to make F1 fun again. Fun...
Your drivers this race:
Mercedes:
Lewis Hamilton
Nico Rosberg
Ferrari:
Sebastian Vettel
Kimi Raikkonen
Red Bull TAG-Heuer:
Daniel Ricciardo
Daniil Kvyat Max Verstappen
Williams:
Valtteri Bottas
Felipe Massa
McLaren-Honda:
Fernando Alonso Stoffel Vandoorne
Jenson Button
Force India:
Nico Hulkenberg
Sergio Perez
Toro Rosso:
Max Verstappen Daniil Kvyat
Carlos Sainz
Renault:
Kevin Magnussen
Jolyon Palmer
Sauber:
Marcus Ericsson
Felipe Nasr
Manor:
Pascal Wehrlein
Rio Hartyanto

Haas:
Romain Grosjean
Esteban Gutierrez
My picks:
Q: Lewis Hamilton
1. Lewis Hamilton
2. Nico Rosberg
3. Daniel Ricciardo
Curse: No curse.
The rest of you have until Q1 to get your picks in.
Good luck.