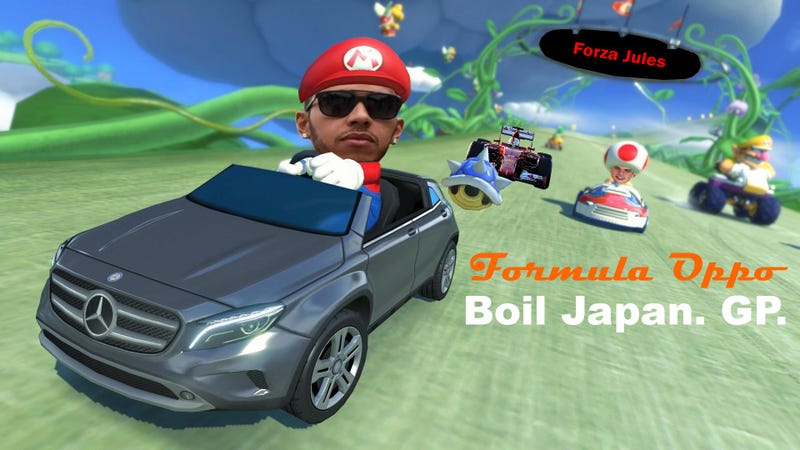 Welcome to the 14th round of Oppo's only fantasy game about F1. Are you ready for the ultimate Formula Oppo experience? Please insert token to play!
Previously on Formula Oppo. Sebastian Vettel showed the dominance only he once displayed. Going wire to wire to win the race. Danial Ricciardo tried to take vengeance upon his former teammate but was only able to get second and bring great shame upon his family. Kimi-san could only sit in third. Lewis Hamilton bowed out after electrical issues allowing Princess Rosberg to regain points.
This week we head to the arcade with a pocket full of quarters to see the latest and greatest high scores in hopes of taking them ourselves. This is Honda's home race so they'll be desperate for good results, remember Honda it's up up down down left right left right b a start. Lewis looks to have a non glitchy speed run. Kimi looks to eat ice cream and drink plenty of cheap sake. Jenson will get to stay at his wife's parents' home and try to have sneaky sex without being caught by her father. All the while Sebastian will be gunning for Hamilton's head.
Choose Your drivers:
Lewis Hamilton- Mercedes
Nico Rosberg- Mercedes
Daniel Ricciardo- Red Bull
Daniil Kvyat- Red Bull
Felipe Massa- Williams
Valtteri Bottas- Williams
Sebastian Vettel- Ferrari
Kimi Raikkonen- Ferrai
Kevin Magnussen Fernando Alonso- McLaren
Jenson Button- McLaren
Nico Hulkenberg- Force India
Sergio Perez- Force India
The Wee Baby Max Verstappen- Torro Rosso
Carlos Sainz, Jr.- Torro Rosso
Pastor Maldonado- Lotus
Romain Grosjean- Lotus
Felipe Nasr- Sauber
Marcus Ericsson- Sauber
Will Stevens- Manor
Alexander Rossi Roberto Merhi- Manor
Player One's picks:

Q: Lewis Hamilton
1. Lewis Hamilton
3. Sebastian Vettel
3. Nico Rosberg
Curse: No curse
Player 2 Are You Ready? (Insert picks before Q1 for multiplayer mode)