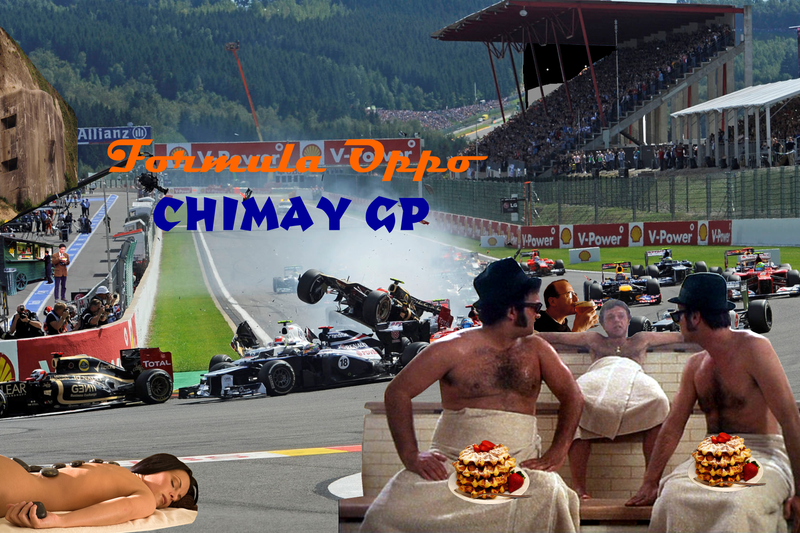 Hello and welcome back from your mandatory vacation, to the 12th round of Formula Oppo, the F1 guessing game that's taking the internet by force. This week, we're heading to the day spa for a nice and relaxing hot stone massage, beer bath, sauna session, and finally a happy ending with a facial.
Previously on Formula Oppo: Daniel Ricciardo won the race and then proceeded to go down on his trophy, (I heard that he's a biter, so watch out ladies). Fernado Alonso proved that, yes, he's still faster than Felipe Massa, and placed his shit sandwich if a Ferrari in second by using nothing but the force. Lewis Hamilton held off Princess Rosberg to finish in third helping to close the gap in the overall standings.
Spas have a history dating back to ancient Greece, where there were public and private baths. This continued on to the Romans where the baths became a place of business. The ancient baths were usually based on hot springs until the Romans used large furnaces, slave labor, and their aquaducts to make the baths on a large scale in the middle of cities. When you got to the baths, you entered into one of the three entrances, (men. women, and slaves), and went into the apodyterium to take off all of your clothes. You then went into the frigidarium or cold room for a cold bath. Then you went into the tepidarium for a warm bath before finally entering the caldarium for a hot bath. After all of that you got yourself an oil massage and scraping. By now, none of you are still reading, but we will go into the typical round of questioning. There have been a lot of upgrades developed for the cars, so will the gaps in performance be decreased? Will Lewis Hamilton follow the strong British tradition of retreating from Belgium as the Germans advance? Can McLaren win a race? Can Ferrari? Will Guy Fieri cook up his famous Belgium Colon Destroyer Awful Waffles?
As for the drivers, here they are:
Sebastian Vettel- Red Bull
Daniel Ricciardo- Red Bull
Max Chilton Alexander Rossi- Marussia
Jules Bianchi- Marussia
Nico Rosberg- Mercedes
Lewis Hamilton- Mercedes
Kimi Räikkönen- Ferrari
Fernando Alonso- Ferrari
Romain Grosjean- Lotus
Pastor Maldonado- Lotus
Marcus Ericsson- Caterham
Kamui Kobayashi or Andre Lotterer- Caterham
Sergio Perez- Force India
Nico Hulkenberg- Force India
Felipe Massa- Williams
Valtteri Bottas- Williams
Kevin Magnussen- McLaren
Jenson Button- McLaren
Esteban Gutierrez- Sauber
Adrian Sutil- Sauber
Jean-Eric Vergne- Toro Rosso
Daniil Kvyat- Toro Rosso
My unfortunate picks are:
1. Nico Rosberg
2. Lewis Hamilton
3. Valtreri Bottas
Q. Nico Rosberg
Curse: Adrian Sutil shall be cursed with beer shits after drinking the yeast.
You have until Q1, (Saturday 23th at 8:00 am est) to make your picks or else you get sent to the Turkish Bath.
Veel succes en geef thr frietjes