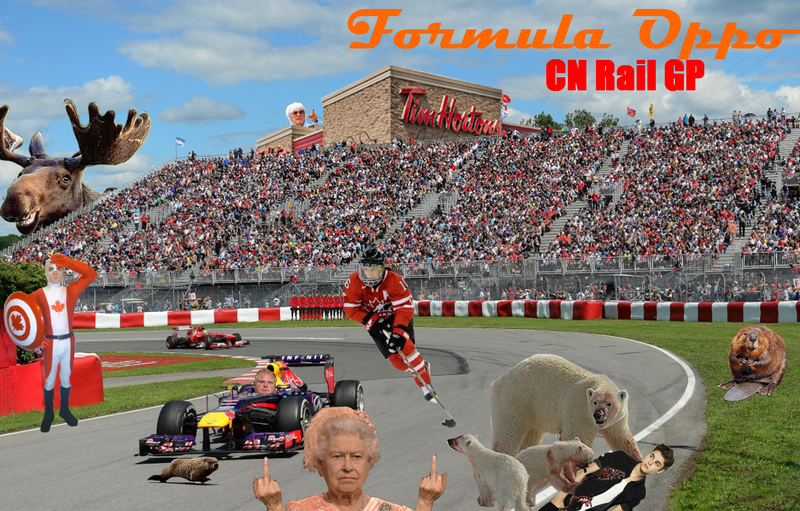 Why hello, thar, and welcome to the frozen wasteland directly north of America. We have all sorts of activities planed for this week including curling eh, hockey eh, apologizing(soory eh), going to Tim Horton's Hearing a Dr. Who eh, hockey eh, maple syrup chugging contest eh, smoking crack eh, eating poutine eh, apologizing s'more(so soory eh), enjoying healthcare eh, beaver pelting eh, and finally the seventh round of Formula Oppo eh, soory eh.
During the last round, Rosberg farted on Hamilton's pillow causing Lewis to get pink eye towards the end of the race. Ricciardo tried to take advantage of this but just couldn't execute the pass.
In the hat of America, the Queen of England is still the head of state, because they are a backwards people, soory. This week, on Degrassi, will the Silver Arrow's Blitz Krieg continue? Will Lewis piss off his engineers too much? Will Rosberg finally find true love? Will Sebastian suffer more issues? Can Ricciardo's teeth get any whiter? Will Rob Ford continue to smoke crack? Will Pastor hit the wall? Will French Canada declare independence? Do Canadians apologize too much? Soory.
Anywho, here are the drivers, eh:
Sebastian Vettel- Red Bull
Daniel Ricciardo- Red Bull
Max Chilton- Marussia
Jules Bianchi- Marussia
Nico Rosberg- Mercedes
Lewis Hamilton- Mercedes
Kimi Räikkönen- Ferrari
Fernando Alonso- Ferrari
Romain Grosjean- Lotus
Pastor Maldonado- Lotus
Marcus Ericsson- Caterham
Kamui Kobayashi- Caterham
Sergio Perez- Force India
Nico Hulkenberg- Force India
Felipe Massa- Williams
Valtteri Bottas- Williams
Kevin Magnussen- McLaren
Jenson Button- McLaren
Esteban Gutierrez- Sauber
Adrian Sutil- Sauber
Jean-Eric Vergne- Toro Rosso
Daniil Kvyat- Toro Rosso
And here is a list of famous people of the white north
My picks are as follows, eh:
1. Lewis Hamilton
2. Nico Rosberg
3. Daniel Ricciardo
Q. Hamilton
Curse: Soory, no curse of the Soories
You have until Q1 (1:00 pm est Saturday the 7th) before the polar bears eat you, soory.
Good luck!