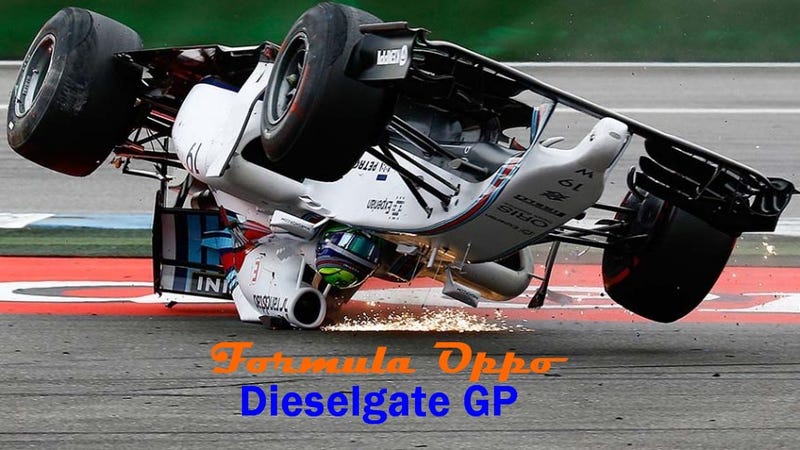 Hello and welcome to the 12th round of Formula Oppo. This week marks the half way point of the season and the last race before the 3 week summer break.
Last time out, this happened. Lewis shot out to the front and... pretty much just stayed there for the hole race. Rosberg couldn't get around. Ricciardo sat in third. Vettel couldn't get around. Verstappen fought his way back to fifth. Kimi fought his way up from 14th to sixth and couldn't get around. Such is the way of heavy aero racing.
This week we start off with a somber tone and remembrance for the victims of the attack in Munich. However this year marks a return to Hockenheim as the Ring can no longer afford the ludicrous entry price. Should be an interesting and possibly boring race.
Your drivers this race:
Mercedes:
Lewis Hamilton
Nico Rosberg
Ferrari:
Sebastian Vettel
Kimi Raikkonen
Red Bull TAG-Heuer:
Daniel Ricciardo
Daniil Kvyat Max Verstappen
Williams:
Valtteri Bottas
Felipe Massa
McLaren-Honda:
Fernando Alonso Stoffel Vandoorne
Jenson Button
Force India:
Nico Hulkenberg
Sergio Perez
Toro Rosso:
Max Verstappen Daniil Kvyat
Carlos Sainz
Renault:
Kevin Magnussen
Jolyon Palmer
Sauber:
Marcus Ericsson
Felipe Nasr
Manor:
Pascal Wehrlein
Rio Hartyanto

Haas:
Romain Grosjean
Esteban Gutierrez
My picks:
Q: Lewis Hamilton
1. Lewis Hamilton
2. Nico Rosberg
3. Sebastian Vettel
Curse: No curse.
The rest of you have until Q1 to get your picks in.
Good luck.