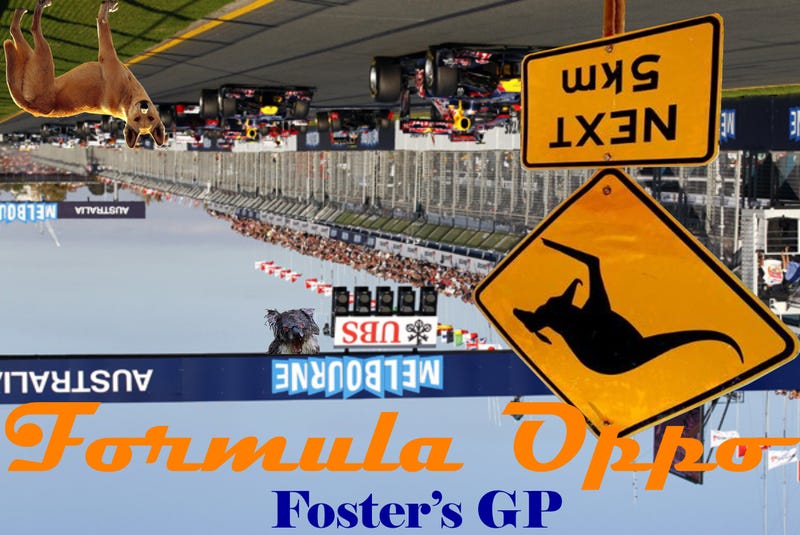 Hear ye! Hear ye! Come one, come all to the opening round of Formula Oppo! This is THE fantasy F1 competition of Oppositelock.jalopnik.com.
These are the rules if you are in need of a refresher.
The Australian GP is the first F1 race of the 2014 season. There are many rule changes this season which may shake up the established order of a Seabass winning all the damn time:
Most of all of the cars have dildos grafted on to the front for deeper penetration safety. The power plants are all new turbo charged 2JZ V6 motors with hybrid systems mated to all new 8-speed transmissions. The cars carry less fuel than last year, so the cars are essentially Toyota Priī.
Here are the drivers:
Sebastian Vettel- Red Bull
Daniel Ricciardo- Red Bull
Max Chilton- Marussia
Jules Bianchi- Marussia
Nico Rosberg- Mercedes
Lewis Hamilton- Mercedes
Kimi Räikkönen- Ferrari
Fernando Alonso- Ferrari
Romain Grosjean- Lotus
Pastor Maldonado- Lotus
Marcus Ericsson- Caterham
Kamui Kobayashi- Caterham
Sergio Perez- Force India
Nico Hulkenberg- Force India
Felipe Massa- Williams
Valtteri Bottas- Williams
Kevin Magnussen- McLaren
Jenson Button- McLaren
Esteban Gutierrez- Sauber
Adrian Sutil- Sauber
Jean-Eric Vergne- Toro Rosso
Daniil Kvyat- Toro Rosso
Format your picks like this:
1. Kimi Räikkönen
2. Jenson Button
3. Nico Rosberg
Q. Lewis Hamilton
Curse: None (if you have one, put a driver's name here)
These are my actual picks. I will not change them and nor will you upon submitting yours. You have until Q1 (Saturday March 15th 02:00 est) to make them. Mod and kinja permitting, I'll try to repost this once every day until the deadline.
Good luck!